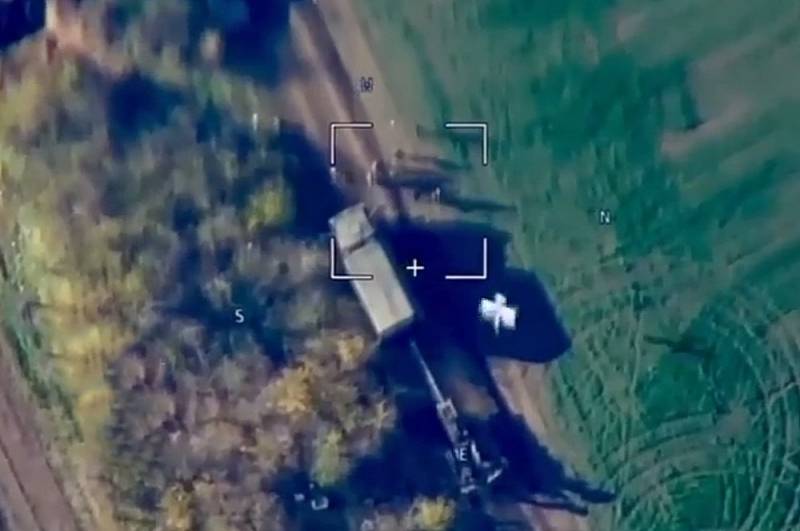 New footage from objective control devices appeared on social media channels covering the NMD, demonstrating the use of the Lancet UAV against enemy armored vehicles.
Unfortunately, the Kalashnikov UAV is not very effective against tank armor. Here you have to rely primarily on the demoralizing effect of a strike by a loitering ammunition on a tank turret.
But against American and British howitzers, the Lancet is very effective. A Russian UAV has reportedly destroyed another M777 worth nearly $4 million.
Technique
was located on the right bank of the Dnieper and was probably intended for shelling the positions of Russian troops on the left bank.
With another blow, the drone operator destroyed the Osa air defense system, which the Ukrainian Armed Forces tried to hide in a shed. However, even under the roof of the Lancet farm building, it was possible to withdraw this air defense system from the Armed Forces of Ukraine.
As reported by the Kalashnikov Concern, additional production facilities have already been used for the production of loitering ammunition of the Lancet type. An increase in the supply of these UAVs will naturally lead to a reduction in the number of howitzers and personnel in the enemy army.
Footage of the successful use of "Lancets" against the equipment of the Armed Forces of Ukraine appear on the Web almost daily. Despite their simplicity and low cost, the Lancets perfectly complement the work of the Geraniums in the zone of denazification and demilitarization of Ukraine.