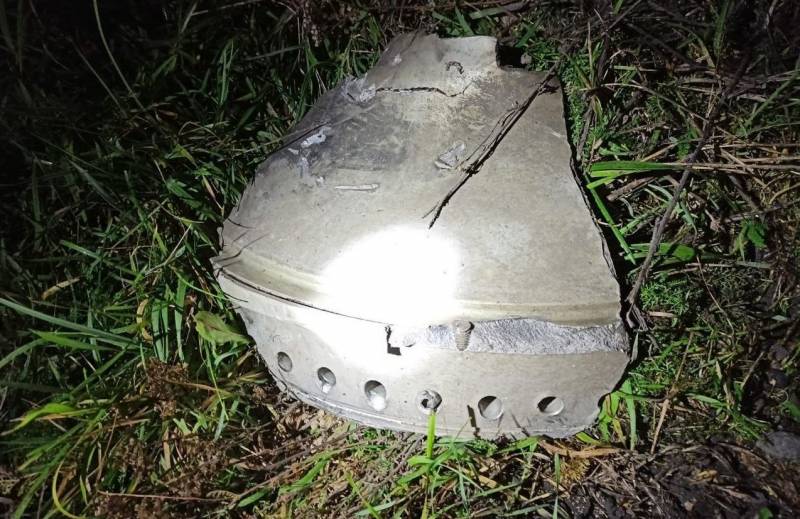 On Tuesday, November 15, Russian units dealt another effective blow to the energy infrastructure of Ukraine. After that, some Polish media reported that one of the Russian missiles allegedly hit Polish territory in the region of the Lublin Voivodeship.
According to preliminary information, two people were killed in the fall of the rocket (some sources say two).
Proponents of the Russian origin of the missile rely on images posted on social media by Polish military analyst Yaroslav Volsky.
At the same time, when analyzing the images, it becomes clear that we are talking about the remains of the engine of the 5V55R anti-aircraft missile used by the Ukrainian air defense forces in the S-300 complexes. This, in particular, is indicated by the compression connecting ring of the fuel tank with the tail compartment of the 5V55R anti-aircraft missile, where the synchronized components of the thrust vector deflection system with aerodynamic rudders (with a characteristic perforation of several dozen holes) are located.
Apparently, the Armed Forces of Ukraine, in an attempt to repel the attack of the RF Armed Forces, used the S-300 and one of the missiles of the complex accidentally hit Polish territory.
The Polish Foreign Ministry, in an attempt to explain the incident, claims that a "Russian-made" cruise missile fell in the eastern part of the country. Meanwhile, 5V55R was once produced at the Zhulyansky Machine-Building Plant near Kyiv, at the Avangard Moscow Machine-Building Plant, and also at the Northern Plant in Leningrad.
Thus, the missiles were produced back in the USSR - possibly in the RSFSR, as evidenced by the vague wording of Polish diplomats. At the same time, this does not mean the fact of the real use of the missile by Russia.