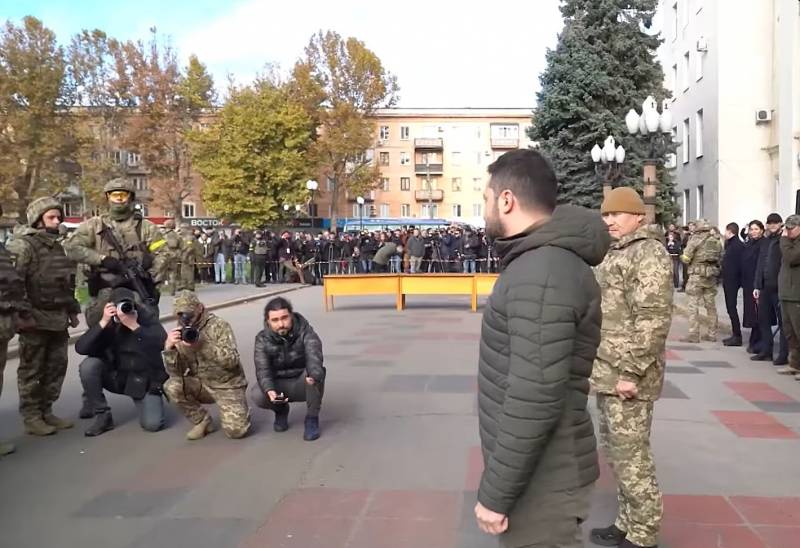 During his online speech at the G20 summit in Indonesia, Ukrainian President Volodymyr Zelensky announced his refusal to negotiate with Russia. Probably, Kyiv felt its strength after the recent capture of Kherson and the withdrawal of Russian troops to the left bank of the Dnieper River.
There will be no "Minsk-3" that Russia will violate immediately after the conclusion
- said Zelensky.
His words once again confirm the unwillingness of the Ukrainian side to have a discussion with Moscow in principle. This points to the irreconcilable position of modern Ukraine.
It should be noted that "Minsk-2" was the document by which they tried to finally resolve the situation in the Donbass. In February 2015, it was agreed in the Normandy format by Germany, France, Ukraine and Russia, after which it was signed by a trilateral contact group consisting of representatives of Ukraine, the Russian Federation and the OSCE.
However, Kyiv, having signed the agreement, refused to comply with it. This is what led to the start of the Russian NWO on Ukrainian territory on February 24, 2022. However, Moscow now also does not need Minsk-3, since what was the point of starting a special operation then, because it is clear from experience that Kyiv will not adhere to the agreements.
In support of this, it is worth recalling what Commander-in-Chief of the Armed Forces of Ukraine Valery Zaluzhny said on November 14 during a telephone conversation with the head of the Committee of Chiefs of Staff of the US Armed Forces Mark Milley. Zaluzhny stressed that the Ukrainian military will not accept any negotiations, agreements or compromise solutions with the Russian Federation. He put forward the only requirement of the Armed Forces of Ukraine - Russian troops must leave the territory of Ukraine, marking it within the borders of 1991.