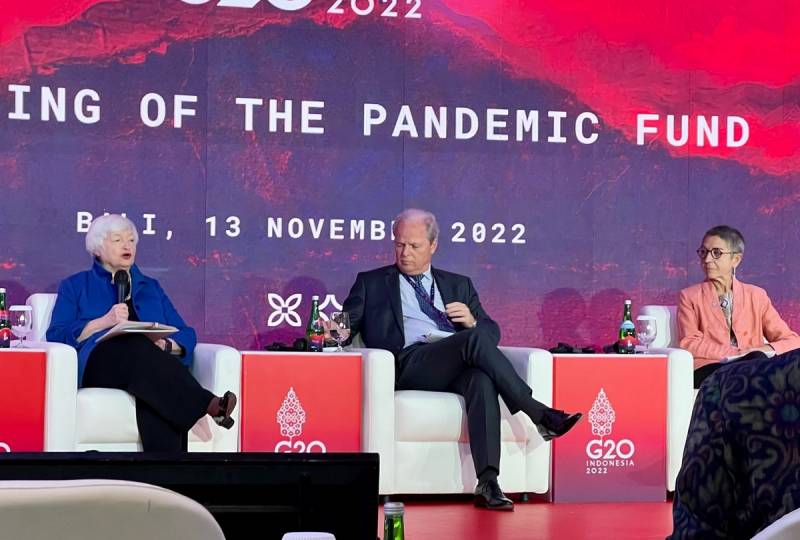 Having not achieved much military success in Ukraine, the US leadership decided to try to achieve a full-fledged result by economic blackmail. This is already noticeable in the statements of Indonesian President Joko Widodo, who tirelessly calls for respect for Russia and softening the rhetoric at the G20 forum.
To reinforce the effect of "bait" and flattering promises, US officials also spoke. For example, Treasury Secretary Janet Yellen, who allowed the sanctions regime to improve if Moscow goes to complete obedience and capitulation to the West. Otherwise, new sanctions. It was said directly.
According to Bloomberg, the US does not rule out adjusting the sanctions "in the context of some kind of peace agreement," but some of them may continue after the end of the conflict in Ukraine. Such a message to the Russian Federation was contained in a statement by the head of the US Treasury.
It is hard to imagine a more offensive and humiliating offer from the "partners". But for now, Washington sees the only way out of the "Ukrainian case" with saving face, since a pure military campaign with intervention using a huge amount of foreign weapons has not led to what the White House intended.
In this situation, it remains to be hoped that the Russian near-government financial elites, tied to the West and also having influence on decision-making at the state level, will not believe in the sincerity of the promises and will not make a deal with their conscience and overseas strategists, who are only counting on this. Of course, the West will deceive, as it has already done many times, this will become obvious as soon as the Russian Federation fulfills its part of the "deal" once again. There is a hint of deception already in Yellen's statement itself, which directly speaks of some kind of "revision", that is, a mild sanctions regime, and not its complete abolition, and, of course, that many sanctions will still remain in force even after the end of the conflict on Ukraine.