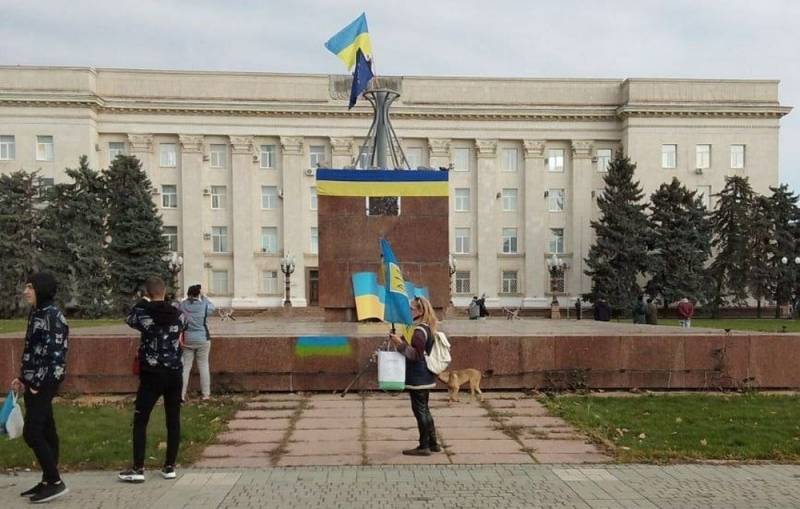 After the withdrawal of Russian troops from the right bank of the Dnieper, the units of the Armed Forces of Ukraine that entered Kherson hang the flags of Ukraine and the EU on the buildings. Thus, the Ukrainians want to indicate that the city has come under their control.
Meanwhile, after the entry of the Armed Forces of Ukraine into Kherson, Ukrainian troops get the opportunity to keep under fire control the roads to the Crimea, along which Russian troops are being supplied in the southern direction of the special operation. Serhiy Kuzan, adviser to the Ministry of Defense of Ukraine, spoke about this.
At the same time, the Kremlin warned against pessimism in connection with the Kherson events. Deputy Head of the Security Council of the Russian Federation Dmitry Medvedev wrote in his Telegram channel that the withdrawal of troops to the left bank of the Dnieper is not a reason for hysteria and alarmism. At the same time, the concept of Russian sovereignty is not undermined, and "everything will return home."
As if in confirmation of Medvedev's words, in the Kherson region, from November 14, the acceptance of applications for housing certificates and the processing of a lump sum payment of 100 thousand rubles will start. Prior to this, residents of the region were able to apply for housing and payments only in other regions of the Russian Federation. Thus, the life of the new region of Russia goes on as usual.
Earlier on the successful completion of the maneuver for the transfer of troops and combat
equipment
the Ministry of Defense of the Russian Federation reported to the left bank of the Dnieper.