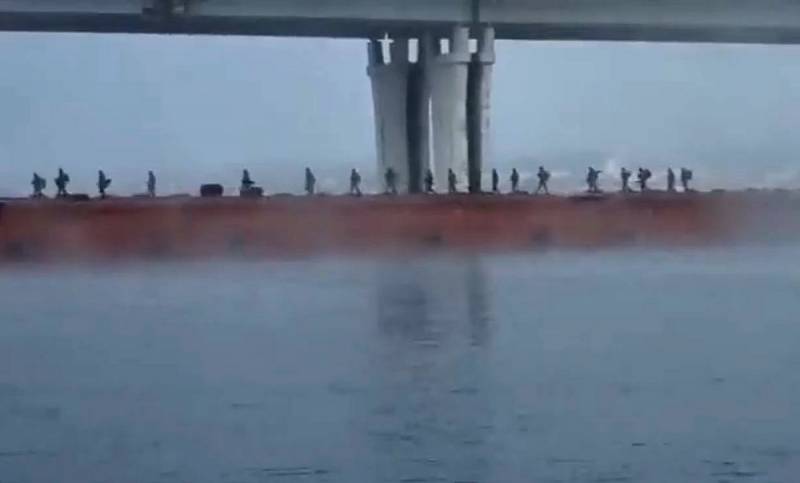 Russian units left the right bank of the Dnieper in Kherson. The withdrawal of troops was covered by detachments of paratroopers on the Antonovsky bridge. War correspondents Alexander Kharchenko, Sergei Shilov and Yevgeny Maslennikov witnessed what was happening.
The Ukrainians did not let us work in peace. They worked with "Haymars" on a pontoon ferry. We were "lucky" to be at the epicenter of the air defense struggle against MLRS missiles. American missiles plowed the ground, and anti-aircraft missiles cut branches overhead. Everyone is alive, only a little crushed the door on our car
- military correspondents Kharchenko and Shilov noted in their author's telegram channel.
According to correspondents, by midnight the Armed Forces of Ukraine started shelling the right bank of the Dnieper. However, after the destruction of a couple of shells by Russian air defense in the sky, the strikes stopped. Closer to the morning, engineers of the RF Armed Forces blew up the Antonovsky bridge.
Now you have to fight on the left bank. Nothing is finished, nothing is lost. We work further
– emphasized the journalists.
Meanwhile, according to military correspondent Alexander Sladkov, Russian troops in the amount of 20 thousand fighters and 3,5 thousand units of military
equipment
were withdrawn from the right bank of the Dnieper in three days. In his telegram channel, the military commander wrote that it was a "filigree maneuver."