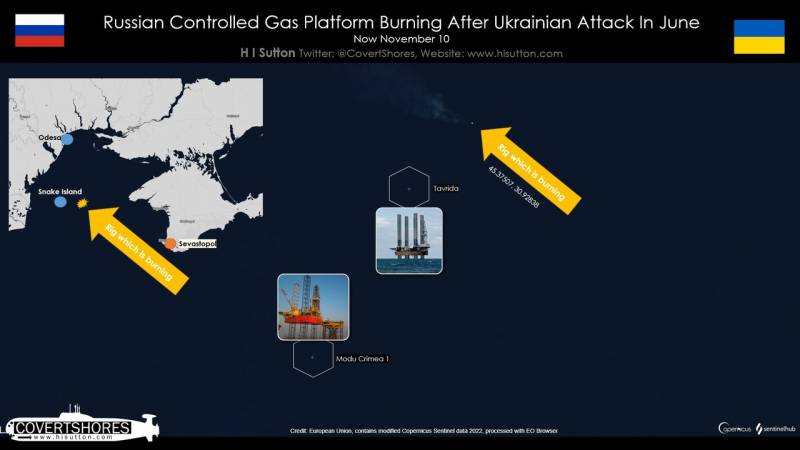 The fire on the drilling platform of Chernomorneftegaz continues. This is evidenced by published satellite images. The drilling platforms were hit on 20 June. The head of Crimea reported that at that moment 109 employees were working on the towers, all of them were evacuated, 5 of them were injured.
In June, it was noted that a week before the attack on drilling platforms, this area of ​​the Black Sea was actively photographed by US commercial satellites. This attack was also preceded by the aggressive rhetoric of the Ukrainian authorities regarding Crimea. Since 2012, three platforms have been operating at the field – BK-1, BK-2 and BK-3.
The first platform suffered the most from the missile strike of the Armed Forces of Ukraine, the other two had minor damage, but all employees were evacuated and the work of the platforms was suspended.
For 5 months, it was not possible to eliminate the burning of gas. This is probably due to the risk of the Ministry of Emergency Situations working in the zone of operation of the Ukrainian military. The BK-1 platform is located 70 km from Odessa, from where there is a risk of shelling by Russian specialists if they are working to put out the fire.
The situation with the platforms did not affect the gas supply of the peninsula in any way, since the required amount of fuel is supplied through the Krasnodar Territory-Crimea gas pipeline, which was put into operation in 2016.