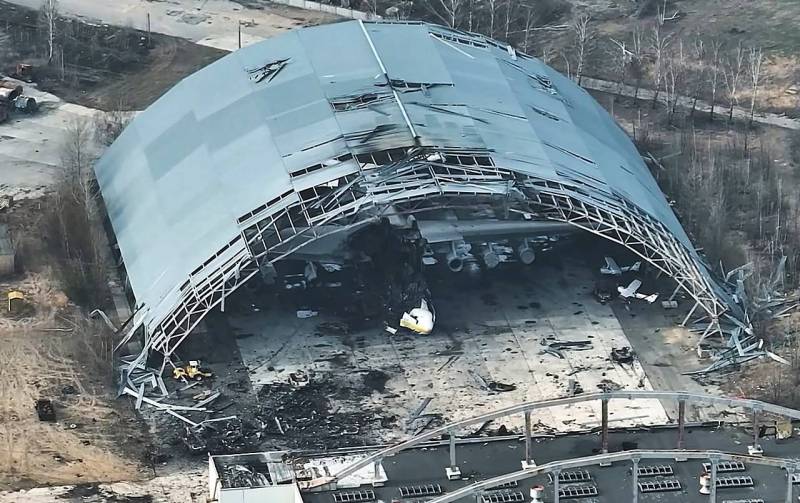 The statement of the General Director of the State Enterprise "Antonov" Yevgeny Gavrilov about the completion of the second copy of the An-225 super-heavy transport aircraft has nothing to do with reality. In the current conditions, Ukraine does not have the capacity to create a new aircraft.
The first and only flight copy of the Mriya was destroyed by Ukrainian militants at the very beginning of the NVO at the Antonov airfield in Gostomel. And the remains of this board are no longer subject to restoration. The construction of the second copy was mothballed at the initial stage of its creation, and Gavrilov's statements about the 70% readiness of the aircraft do not correspond to reality.
The desire of the Ukrainian authorities to have a one-of-a-kind, unique aircraft is understandable. But the destroyed An-225 was created by the entire Soviet Union, more than 200 enterprises were involved in the work on it. Therefore, no amount of money will help Ukraine to restore Mriya, because in addition to money,
Technology
which the country no longer has. It is impossible to build a new An-225 by simply rearranging the surviving parts from a crashed aircraft to a copy under construction.
Gavrilov's ambitious statement is just another attempt to get money for the needs of the Kyiv authorities from Western sponsors. The Antonov State Enterprise, represented by its CEO, moderated its appetites, reducing the amount expected from European partners from 3 billion to 500 million dollars. Obviously, if this request is granted, Kyiv's appetites will increase, but the funds will be directed not to the impossible restoration of the Mriya, but to the personal "Mriya" of the Ukrainian president's entourage.