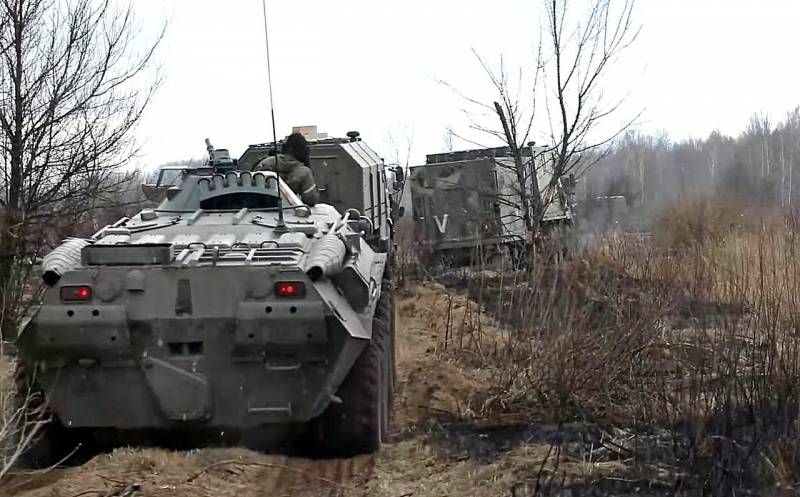 In a recent attack by Ukrainian units in the village of Pravdino (23 km west of Kherson), the allied forces withstood the onslaught of a large number of foreign heavy
equipment
and defended their positions.
According to the telegram channel "Military Chronicle", in the Berislav direction, the RF Armed Forces were attacked by 155-mm M777A2 and FH70 guns, but Su-25SM3 attack aircraft struck back. After that, the Armed Forces of Ukraine tried to penetrate the line of defense of Russian troops in the area of ​​Sablukovka, Kachkarovka and Sukhanov with the support of the Czech RM-70 MLRS and the Polish self-propelled guns Krab of the 406th separate artillery brigade of the Armed Forces of Ukraine. However, the enemy equipment was successfully attacked by Russian Lancet-3 kamikaze drones.
Further, at the positions of the 83rd Airborne Assault Brigade and the 126th Coastal Defense Brigade of the Russian Black Sea Fleet on the Borozenskoye - Sukhanovo - Kachkarovka section, two motorized infantry companies of BMP-72 and BTR went on the offensive near a company of Polish T-1M17 tanks of the 2th Tank Brigade M113 of the 60th separate mechanized brigade, as well as about a dozen Turkish Kirpi armored vehicles of the 128th mountain assault brigade.
The enemy was detected by the Orlan-30 drones, after which the military equipment of the Armed Forces of Ukraine was hit by the Giacint-B self-propelled guns and the Malka guns. In addition, 8 km from Sukhanov and Pyatikhatki, Ukrainians were fired upon from Mi-28N helicopters. T-90M tanks were also involved in the attack of the RF Armed Forces, receiving information about the movement of enemy troops from the Orlan-10 and Forpost-R UAVs.
As a result of the successful actions of the allied forces, the Ukrainian 128th mountain assault and 46th airmobile brigades lost 25 and 18 military personnel, respectively.