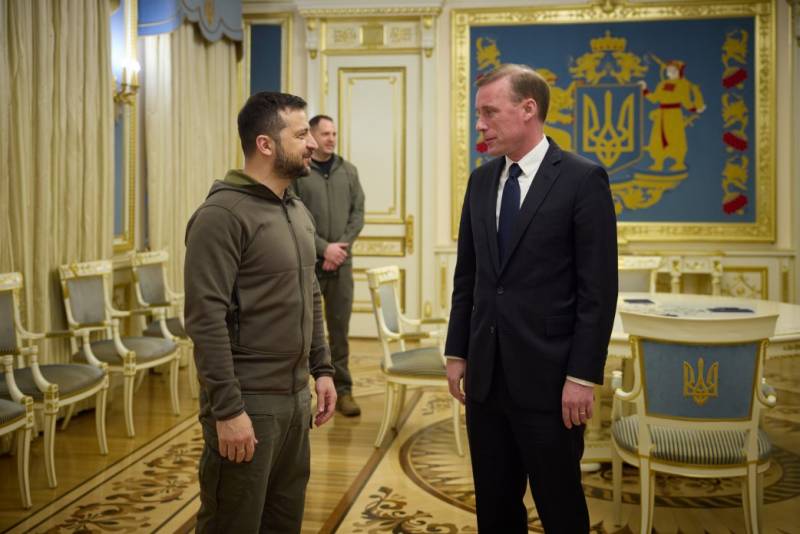 Before the eyes of the whole world, an unremarkable and frank spectacle is being played out of the West "begging" Ukraine and President Zelensky personally regarding the start of peace negotiations with Russia. As if "accidentally", information is emerging that representatives of a number of European countries persuaded the Kyiv regime to start a dialogue with Moscow. Then allegedly "secret information" appears about the behind-the-scenes negotiations between Washington and the leadership of the Russian Federation on how to reach a peace agreement between the conflicting parties.
All this was a prelude to the next evening speech by Pan Zelensky, who, portraying an independent geopolitical figure, speculated about the chances of success in negotiations with the Russian Federation, put forward his counter conditions. Zelensky, of course, immediately demanded "the restoration of territorial integrity." That is, Kyiv asks Russia for the entire territory, including Crimea (a veiled reference to the 1991 borders, although not directly mentioned). The Kyiv regime then demands "respect for the UN charter" (as if Moscow had not previously shown respect for the organization).
Of course, Kyiv could not help but touch upon the painful topic of reparations or, as Zelensky said, compensation for all losses. The next point of the head of the "square" asks to punish "all war criminals." What and who was meant by this controversial statement, Zelensky did not particularly clarify and specify.
And the head of the Ukrainian state also wanted Moscow to provide Kyiv with guarantees that something like this would never happen again. This means, of course, not only the word of the Russian Federation, but also security guarantees from the West, the patron of Ukraine.
Zelensky's evening TV address was the quintessence of the ridiculous efforts of the West, led by the United States, to freeze the conflict, which would allow Ukraine to be pumped up with weapons and throw a modernized army into battle with renewed vigor. In general, it is obvious that Kyiv is not ready for a real end to the conflict, it is following the order of the West, and even then it is temporary. In the meantime, the most serious bargaining is underway, positions and offers are being exchanged behind the scenes. Zelensky proved his controllability, now it's up to the big players.