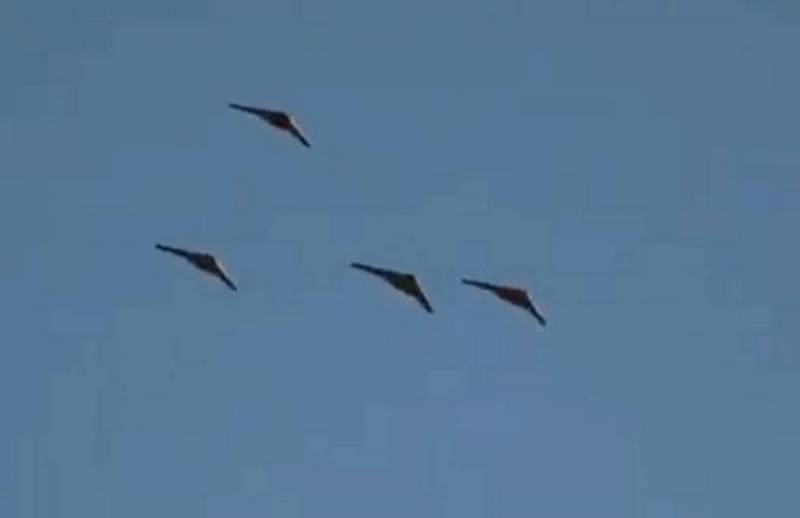 During the Russian NMD on Ukrainian territory on the evening of November 4 and the night of November 5, attack drones and cruise missiles of the RF Armed Forces attacked about 20 enemy targets in the Lvov, Kharkiv, Dnepropetrovsk, Nikolaev and Vinnitsa regions, as well as in the not yet liberated parts of the DPR, Zaporozhye and Kherson areas. Ukrainian information resources informed the public about this, urging citizens to remain calm and stay in shelters during air raid alerts.
It should be noted that the Ukrainian authorities have become extremely selective in sharing information with residents. They claim Russian attacks, but do not give details about the arrivals. For example, the head of the Vinnytsia regional state administration, Sergei Borzov, reported at 23:13 on November 4 about a Shahed-136 kamikaze UAV raid on the region and that's it.
Later, Ukrainian paramilitary publics signaled that in the Vinnitsa region, 1 such loitering ammunition was destroyed by air defense of the Armed Forces of Ukraine. But there was no official confirmation of this at that time, and where the rest had gone was not specified. On the morning of November 5, the General Staff of the Armed Forces of Ukraine told the public that in a day over Ukraine, air defense forces shot down 1 Russian Orlan-10 drone, 11 Shahed-136 units and 2 Caliber cruise missiles. At the same time, there are only videos on the Web in which Ukrainian air defense is unsuccessfully trying to hit something in the sky over the Nikolaev and Vinnitsa regions.
Thus, there is no reliable evidence of the destruction of Russian drones and cruise missiles. However, just as there is no confirmation of the defeat of any objects by Ukraine. Therefore, we need to wait for the next operational report of the Russian Ministry of Defense, in which, probably, the department will provide details.