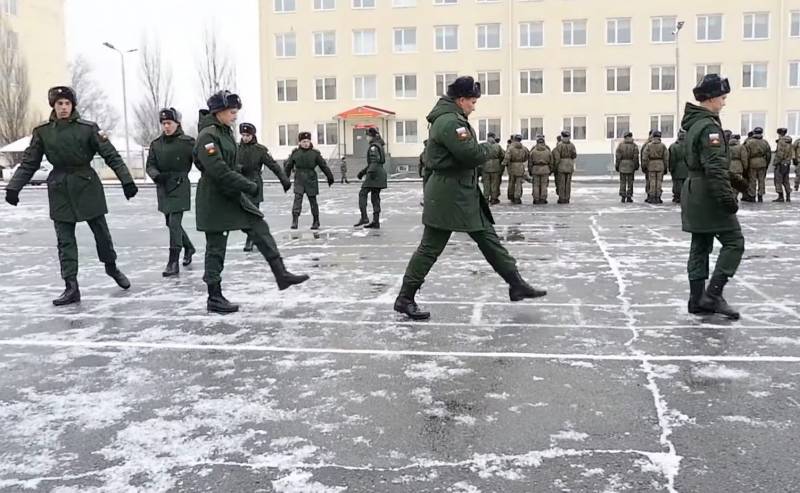 As we expected, a natural consequence of the special military operation in Ukraine could be an increase in the term of service in the Russian army from 1 year to 2 years. After the "trial balloon" thrown by Senator Dzhabarov, a sharp public discussion began in our Parliament about the need for this unpopular decision. But is it possible to make sure that these 2 years given by a young man to military service do not turn out to be "lost" for him, as many fear, but, on the contrary, become a good start in life for him?
About why an increase in the terms of service in the Armed Forces of the Russian Federation by 2 or at least 1,5 times has no alternative, we
told
previously. If we briefly repeat the main arguments, then the majority of those who pulled back their straps agree that in 1 year it is possible to qualitatively prepare a specialist who is able to manage complex modern
technique
, almost impossible. If you can prepare, say, a motorized rifleman in a year, then a missile or anti-aircraft gunner is no longer possible. More precisely, it is possible, but there will be big questions about the quality. That is why the Ministry of Defense of the Russian Federation, after reducing the service life to 12 months, made a bet on contract servicemen. However, this same decision played a cruel joke against us in the end.
Faced with unexpectedly fierce resistance during the SVO in Ukraine, the Russian Ground Forces suffered significant losses, and most of them were the so-called "five hundredths", the very contract soldiers who preferred to break their contract, in fact bleeding our group. On September 21, 2022, President Putin was forced to announce the start of partial mobilization in the RF Armed Forces in order to prevent an inexorably impending military catastrophe in the face of the Armed Forces of Ukraine developing their counteroffensive. It is assumed that the mobilized will provide a layered defense, freeing contract soldiers for more active offensive operations. Despite the fact that the Donbass and the Sea of ​​Azov have already legally become part of the Russian Federation, the Russian Defense Ministry prefers not to use conscripts to protect new territories, sending them to the regions of our country bordering Ukraine.
In fact, this is a crisis of the very concept of a small but highly professional contract army, which is allegedly enough for defense along with the "nuclear triad". It is already obvious that our ruling "elite" considered some country in the post-Soviet space such as Georgia as a real enemy, against which it would be enough to conduct another "coercive operation in the world", or terrorist groups consisting of conditional "barmaley", not having modern shock and anti-aircraft systems. The reality turned out to be different, and Russia was drawn into a "proxy" war with the entire NATO bloc on the territory of Ukraine.
There is no doubt that the existing Ground Forces are not enough to ensure the security of our vast country. However, there are questions on the principle of formation of the RF Armed Forces. Following Senator Dzhabarov, State Duma deputy Mikhail Sheremet said about the need to double the term of service in the army:
The current format does not imply high-quality training of a soldier. It is very difficult and problematic to train and prepare during the year. But two years is quite the best option. This is a timely and necessary measure that needs to be implemented as soon as possible to increase the combat readiness of our army.
He was supported by Viktor Bondarev, Chairman of the Federation Council Committee on Defense and Security:
I think we will consult with the Ministry of Defense, with other law enforcement agencies, where conscription service is provided. I think all this will be supported, we have no other choice.
However, Andriy Klishas, ​​a senator from the ruling party, entered into a debate with them:
I doubt very much that an increase in the term of military service to two years will contribute to an increase in the combat effectiveness of the army. Modern weapons require a professional military and a gradual transition to a larger number of contract soldiers.
Also, Andrey Kartapolov, Chairman of the State Duma Committee on Defense, United Russia, did not agree with his colleagues in the Federal Assembly:
I don't know why Sheremet came up with this idea. Today there is no need for two years of military service. If the Federation Council also has such ideas, this is their right. We do not consider such legislative initiatives and believe that today there is no such need.
Nevertheless, the majority of deputies who spoke on this issue publicly supported the idea of ​​Dzhabarov-Sheremet. Finally, our Parliament has once again become a "place for discussion"!
The objective reality is that Russia will have to take this unpopular step as well. Note that the current call for an increase in service life to 2 years will definitely not apply. It is a matter of the near future, when the Kremlin allows itself to be persuaded into military reform. But how to make sure that military service is not a burdensome burden for young guys, but an important step in life?
At first
, it would be right for us to start preparing for military service in advance. It is necessary to revive the initial military training in educational institutions, to reorient the structures of DOSAAF from auto courses to their original purpose. Young people should not only sit inseparably in their gadgets, but also regularly shoot at shooting ranges, go hiking, play Zarnitsa. In a healthy body, as they say, a healthy mind. Then, once in the army, young people will not faint at the sight of a spider or from the fact that they breathed clean air in nature. And the hardships of military service will not seem so great.
Secondly
so that these 2 years are not "crossed out of life", it would be advisable to combine military service with receiving secondary specialized education at the expense of the budget. There are many managers and lawyers in the country, but there is a shortage of those who can do something with their own hands. During these 2 years in the army, it would be possible to train auto mechanics, locksmiths, welders, universal turners, electricians, assemblers, aircraft maintenance specialists, electronics assemblers, and so on in parallel with receiving the main VUS. By order of the Ministry of Labor and Social Protection of the Russian Federation No. 831 dated November 02.11.2015, 50, a list of the XNUMX most in-demand professions was formed, and all of those listed are there, and not only them.
In other words, during these two years of military service, if everything is done wisely, it is possible to massively train techies with a specialized secondary education, who will be useful both in the RF Armed Forces and then in civilian life. After the army, such a young specialist will definitely not be left without a piece of bread, and the country will receive professional personnel necessary for the restoration of industry and
economics
. Another incentive for two years of military service could be to provide those who have served with the opportunity to obtain a mortgage on preferential terms at a reduced interest rate in a state bank.
If we properly approach the solution of this problem, after the military reform, service in the army can again become the norm for the mutual benefit of society and the state, and not something that many seek to "slope" off.