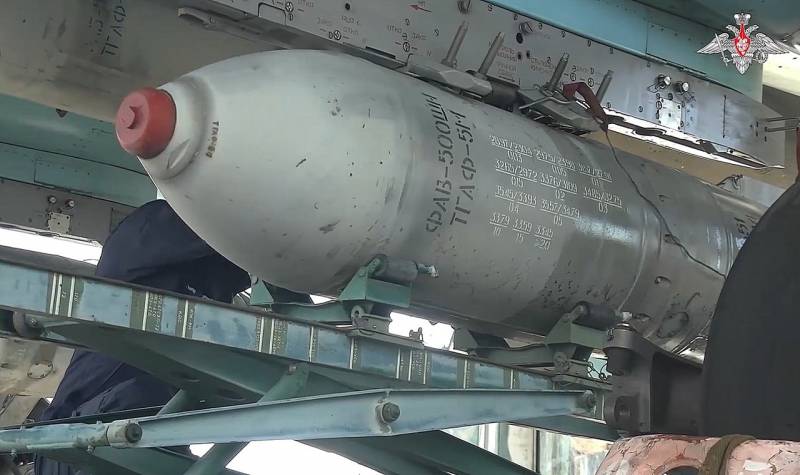 During the NMD, Russian Su-34 fighter-bombers use a large range of their aviation weapons against the Armed Forces of Ukraine. On November 2, the Russian Ministry of Defense presented another video to the public, which shows the combat work of the involved aircraft.
It should be noted that the crews of the Su-34 are on round-the-clock duty at home airfields. In addition, in any weather conditions, day and night, they patrol the airspace, cover the actions of the Ground Forces of the RF Armed Forces, and suppress enemy air defense, artillery and fortified areas. One of the ASPs shown in the footage is the FAB-500SHN 500-kilogram unguided high-explosive assault bombs with a parachute braking system for dropping at low and extremely low altitudes (100-200 m).
It should be noted that with the increase in the effectiveness of air defense, the idea of ​​delivering aerial bombs to the target at the above-mentioned heights was widely recognized throughout the world in the late 50s of the twentieth century. But the use of powerful air bombs at such heights is associated with the danger of hitting one's own aircraft with exploding fragments. So, in 1961, the FAB-250Sh and FAB-1500ShA assault bombs appeared, and later, in 1969, GNPP Bazalt (now JSC NPO Bazalt, Moscow, part of Rostec) created the FAB-500Sh.
These munitions are designed to overcome air defense zones by aviation and destroy military-industrial facilities, railway junctions, lightly armored
equipment
, manpower and military field installations. Air bombs are equipped with a built-in braking device and a fuse, which is an integral part of the design. Slowing down the fall of an aerial bomb allows the aircraft to leave the zone of dispersion of its fragments. Some time after the drop, the parachute fires back, after which the ammunition rushes to the ground with increasing speed. In 1976, the GNPP "Basalt" developed an improved model - the low-altitude FAB-500ShN, and in 1986 - an assault munition with a predictive leader FAB-500SHL.