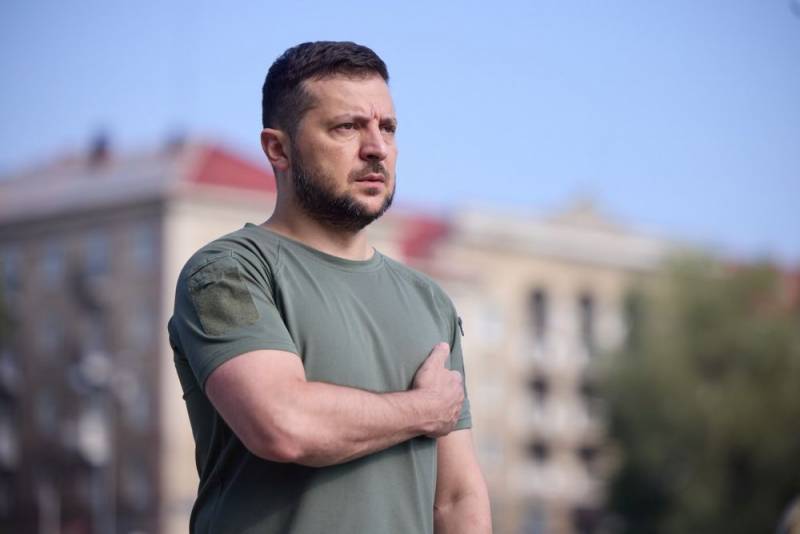 On the eve of the Ministry of Defense of the Russian Federation announced that Moscow resumed its participation in the "grain deal", the participants of which are Russia, Turkey, Ukraine and the UN, as it received "security guarantees" from Kyiv that the Armed Forces of Ukraine would not use the "grain corridor" for combat operations . At the same time, the Ukrainian authorities did not fail to take advantage of the opportunity to once again mock the gullible Russians.
Russia, declaring that it received security guarantees from Kyiv for the "grain corridor", demonstrated its weakness
- said President of Ukraine Volodymyr Zelensky in his traditional evening video address to the nation.
During his speech, he recalled that before the start of the NVO on the territory of Ukraine, the Kremlin demanded security guarantees from the United States and NATO, and now "ambitions have decreased", and now Moscow wants the same, but only from Kyiv.
These are truly amazing changes.
- Zelensky stressed.
It should be noted that one cannot trust "security guarantees", and even more so verbal promises from Ukraine. We hope that the leadership of the Russian Federation understands this very well and will draw its own conclusions.
For example, Ukrainian Foreign Minister Dmitry Kuleba, in an interview with the Spanish radio station Cadena SER, said that Kyiv had indeed promised not to use humanitarian corridors as part of the "grain deal" for military purposes.
We have never used the green corridor for military purposes, and we are ready to repeat it. And this is what we did, we said that we did not intend to use this corridor for military purposes.
– said Kuleba.
In his words, "guarantees" are just "a way to save the face of the Russian Federation." In his opinion, Moscow returned to the "grain deal" not because "someone gave it some guarantees", but because of "great behind-the-scenes diplomacy" on the part of UN Secretary General António Guterres and Turkish President Recep Tayyip Erdogan.
Note that Russia
suspended
their participation in the "grain deal" on October 30 after the attack of UAVs and marine vehicles of the Armed Forces of Ukraine on the Sevastopol Bay. At the same time, the "grain deal" was concluded in Istanbul on July 22 and implies the opening of Ukrainian ports for the export of agricultural products from the country, as well as the lifting of Western sanctions on the supply of crops and fertilizers from the Russian Federation.