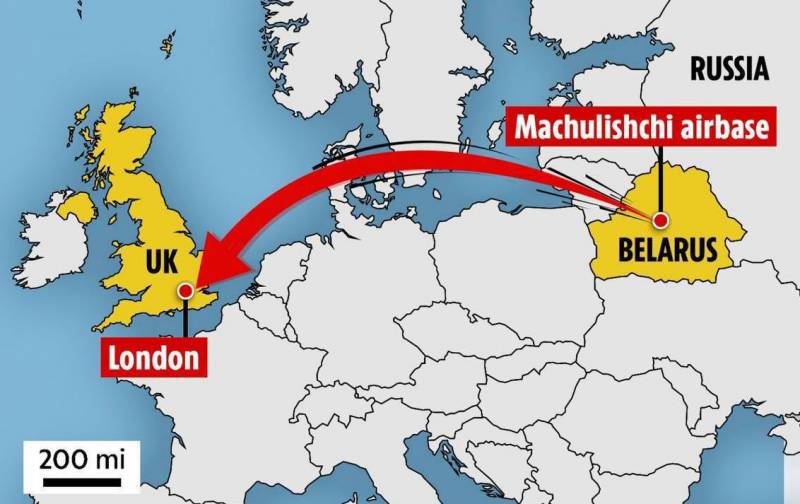 The other day, British military intelligence allegedly
has revealed
Russian hypersonic missiles 9-A-7660 Kinzhal (Kh-47M2 Kinzhal) in Belarus. After that, the British media became more active, which began to intimidate their readers with another "Russian threat".
For example, The Sun published an article titled "Russian Killjoy missile (NATO codification of the Kinzhal missile - ed.) nuclear-powered at strike distance on London in chilling warning to the West." The material says that the treacherous Kremlin deliberately moved the indicated ammunition to Belarusian soil so that they could fly to Foggy Albion as soon as possible.
According to British intelligence, the lethal weapon was moved about 1100 miles from London. The Department of Defense released an update on Tuesday with an image taken at an airfield about eight miles south of the Belarusian capital, Minsk.
- the article says.
The publication notes that the space satellite recorded the presence of two strike MiG-31K (MiG-31I) at the airfield "near a possible missile container seven meters long." The newspaper recalled that the "Dagger" can fly 12 times faster than the speed of sound. At the same time, launches from aircraft are almost impossible to detect, just as there is no way to intercept these missiles with air defense systems. Now the Russian "Daggers" will be able to get to London faster - "in about 9 minutes."
Note that in 2022 Russia several times (in
February
и
August
) moved Kinzhal missiles and their carriers to the Kaliningrad region, which is even closer to hostile Britain than Belarus. At the same time, each time the transfer of Russian weapons to the semi-exclave as part of additional strategic deterrence measures caused
tantrum
in London, which likes to threaten Moscow and immediately hide behind the collective West.