The relations between the countries can be judged by how their leaders behave in person. And a positive example demonstrating the trust between the parties can be safely called the negotiations of Russian President Vladimir Putin and Egyptian President Abdul-Fattah Al-Sisi, which took place on October 17, 2018 in Sochi, where the latter arrived on an official visit the day before.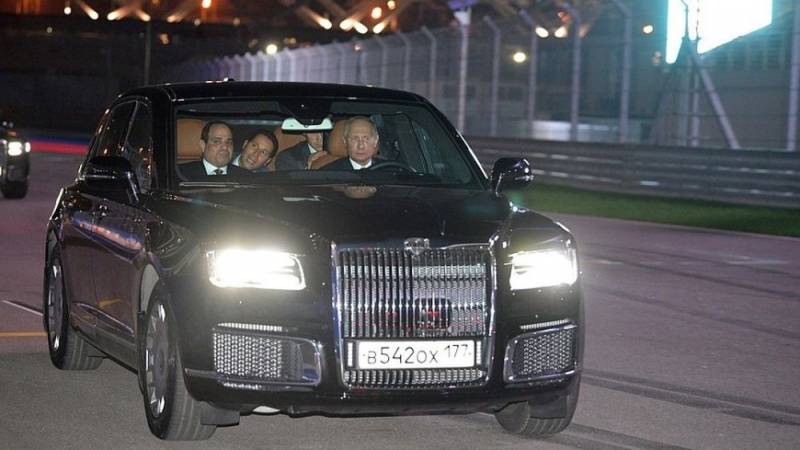 The presidents had something to discuss. Indeed, a lot of problems have accumulated in the Middle East. And Egypt has a strategic position in this vast region. And apparently, the parties came to a complete understanding on all issues, both socio-economic and military-political in nature. In any case, both were in a good mood and radiated genuine optimism. They even agreed to resume flights between the countries, which will please both Russians and Egyptians, for obvious reasons.
After all, it was not in vain that after the meeting ended, Putin invited Al-Sisi to get acquainted with the new products of the Russian automobile industry. And he presented to his colleague the line of cars "Aurus" (Aurus), also called "Tuple". After which, the presidents drove together to the local circuit in the new Senat limousine. By the way, this is precisely what the Russian president uses.
At the racetrack, where the famous Formula 1 stage takes place annually, other models were shown to the President of Egypt: the Senat sedan (a shortened version of the limousine), the Arsenal minivan and the Komendant SUV. For understanding, cars are named after the towers of the Moscow Kremlin.
Then Putin suggested that Al-Sisi ride with him, having tested the sedan on the go. The President of Russia sat down in the driver's seat, and As-Sisi was seated in the front passenger seat and they went for a drive. Presidents even walked along the Sochi embankment, talking with passers-by.