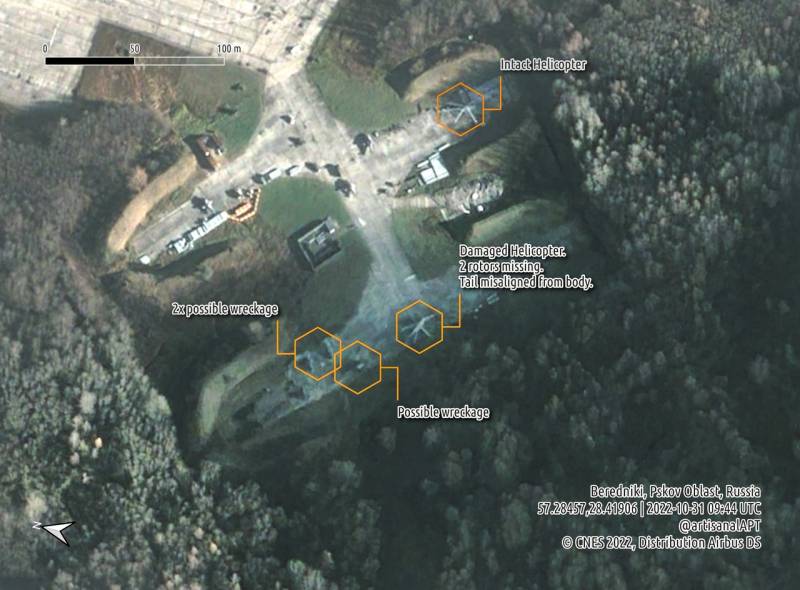 The French national center for space research CNES published a satellite image of the military airfield Veretje, where on October 30 an explosion occurred that destroyed two helicopters. The image allegedly shows the location of both destroyed helicopters, as well as one damaged and one intact rotorcraft.
Based on the satellite image, it is obvious that the Ka-52 was in a non-flying state before the emergency and stood in the far sump of a military airfield. However, the location of the helicopters on the edge of the military airfield does not in any way justify the possibility of unauthorized persons entering the sensitive facility. In the current situation, the protection of military bases should exclude the slightest possibility of enemy sabotage.
Recall that the explosion at the military airfield of the 15th brigade of army aviation near the village of Veretye ​​in the Pskov region, presumably, occurred on October 30, as a result of which two Ka-52 Alligator combat helicopters received significant damage.
The version of the accidental detonation of ammunition was denied by the Security Service of Ukraine, claiming responsibility for the attack. Later, an unconfirmed video of helicopter mining by saboteurs appeared on the Web. The Russian Ministry of Defense has not yet commented on the incident.