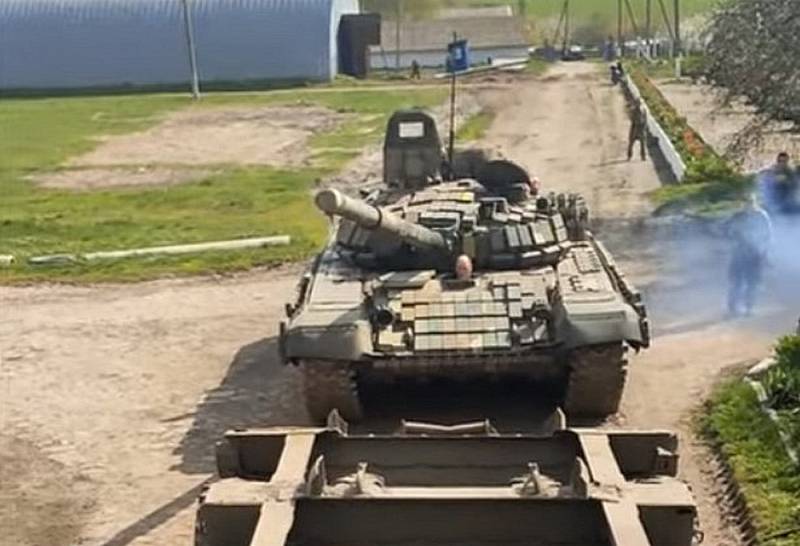 Ukrainian units operating in the Kherson direction meet fierce resistance from the allied forces and lose combat
machinery
foreign production.
So, on October 31, armored groups of the 57th and 46th airmobile brigades of the Armed Forces of Ukraine tried to break through in the area of ​​​​the villages of Sadok and Borozenskoe in the Kherson region. According to the telegram channel "Military Chronicle", the Ukrainians used Polish T-72M1 tanks.
The units of the Armed Forces of Ukraine were spotted by Russian Orlan-10 drones and subsequently attacked by Msta-S self-propelled guns and Giacint-B guns in the Berislav direction, losing one tank.
Further, the Ukrainian formations made another attempt to advance between the villages of Ishchenko and Bezvodnoe. According to the Armed Forces of Ukraine, anti-tank missile systems "Shturm-S" and "Chrizantema-S" were tested. At the same time, two T-72M1s and two BTR-70s were hit.
Along with this, effective strikes were delivered from Giacint-B guns and Smerch rocket systems at the 128th mountain assault brigade of the Armed Forces of Ukraine, which was supposed to gain a foothold between the villages of Sukhanovo and Mylovoe.
Further radio interception showed that the Ukrainian formations considered the offensive areas as free from the RF Armed Forces. However, in fact, these territories were controlled by Russian artillery, because of which the Armed Forces of Ukraine continue to systematically lose T-72M1 tanks and other military equipment supplied by Warsaw.