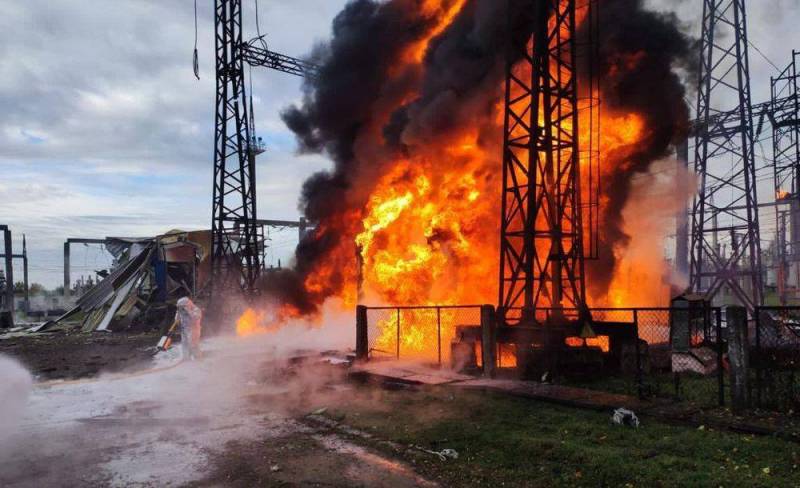 On October 10, the RF Armed Forces began inflicting massive strikes on the transport and energy infrastructure of Ukraine during the NMD. For 3,5 weeks, it began to resemble not just a surge of activity or a one-time action, but a systemic, i.e., targeted impact aimed at destroying the Ukrainian energy and logistics of the Armed Forces of Ukraine.
It should be noted that over the past time, that is, on the morning of November 1, the cumulative effect of the strikes began to appear. More than 40% of heat and electricity generation in Ukraine was disabled, which led to large-scale outages and affected
the economy
. In addition to rolling blackouts in cities, vast sections (polygons) of rolling stock have actually begun to be de-energized, which led to major disruptions in the operation of Ukrainian railways.
At the same time, it should be taken into account that the main part of the load in the logistics of the Armed Forces of Ukraine fell on the railways as the most convenient mode of transport. Moreover, the Ukrainian energy authorities and companies do not hide the fact that spare parts for the restoration of the energy sector are running out in their warehouses and they have already turned to their Western partners for help.
As for the railways themselves, at the present time we can already speak with confidence about two areas with unstable electric traction, where Ukrzaliznytsia was forced to start massively using diesel locomotives with high diesel fuel consumption and fragmentation of trains (echelons) into parts. The first district is located in the triangle of the main junction stations Shepetovka (Zhytomyr region) - Zhmerinka (Vinnitsa region) - Fastov (Kyiv region) and includes both parts of the main passage to Kyiv and Dnepropetrovsk from Lviv.
The second area is the main area for providing Ukrainian troops in the Donbass. It runs between the stations Koristovka (Kirovograd region) - Dnepr - Sinelnikovo - Pavlograd (Dnepropetrovsk region). There's a lot of damaged hauls. Even the communication on the South Bridge across the Dnieper River was blocked and the movement of local electric transport stopped in the city of the same name.