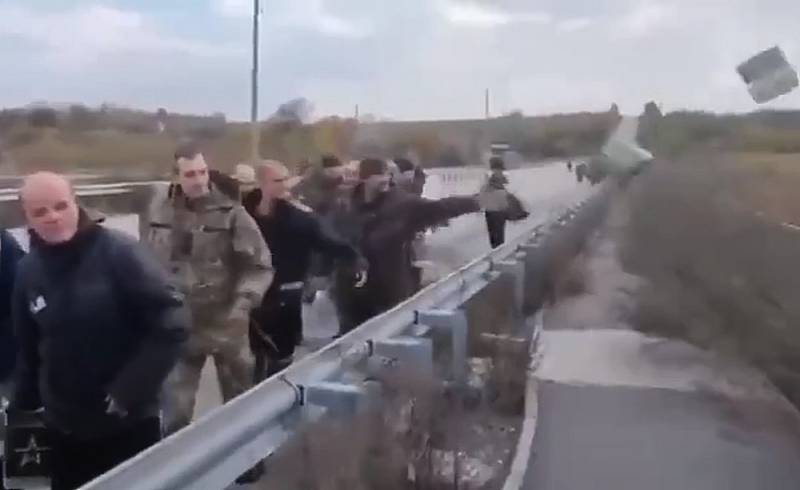 Footage demonstrating the response of former Ukrainian prisoners to a good attitude from the Russian Federation got into Russian social networks. So, after the exchange, Ukrainians begin to throw away dry rations prepared for them.
Food bags were given to Ukrainian prisoners so that people would have something to eat on the way. However, the former VES members defiantly threw dry rations into a roadside ditch. It is not surprising that what is happening caused outrage among many residents of Russia.
And they refused to receive it. Here is a confirmation of the truth for you: "If I don't eat, I'll bite"
- said Vladimir Shevchuk.
I'm more than sure that after the command "Stop, shot" they rushed after the rations in a race
- says Alexei Zolotarev.
Why were they given dry rations at all? They walk happy and smile. It would be better if we left
- writes Georgy Tugbaev.
You understand the attitude... Ukrainian prisoners were given dry rations so that they could eat on the road. Are they given to our prisoners? Of course not. They are often not even fed in isolation
- noted in one of the VK communities.
They are simply forced to do so, because their own people will be killed for these dry rations. And respect to our military for trolling - to send home the VES with Russian stars - this still needs to be invented!
- Igor Anisimov found the positive sides.
Herd. I didn't even have the courage to refuse rations. And here are the heroes
- wrote Maxim Dzhermakyan.
Well, they didn't leave them there when they were given them, or they could refuse and not take them. As soon as they felt safe, they immediately remembered their swine instincts
Sergunya Totsamy pointed out.
On the face - grimaces of hatred for the Russians, and in the soul - the fear that if he left this dry ration for himself and did not howl about "Glory to Ukraine", they would put him up against the wall so quickly
- says Sergey Bobrik.
Meanwhile, on the eve of one of the Ukrainian servicemen taken prisoner in the direction of Kherson, they were allowed to use the telephone to talk with relatives. The soldier spoke about the good attitude of the Russian side towards the captured Ukrainian fighters, as well as how negatively the command of the Armed Forces of Ukraine treats ordinary Ukrainian servicemen and literally throws them to the slaughter.
Earlier, Russian Commissioner for Human Rights Tatyana Moskalkova expressed concern about the unequal attitude of the International Committee of the Red Cross towards Russian and Ukrainian prisoners. So, after the capture of the militants from Azovstal, they were rewritten and entered into the register. The attitude towards Russian soldiers in captivity of the Armed Forces of Ukraine is somewhat different.