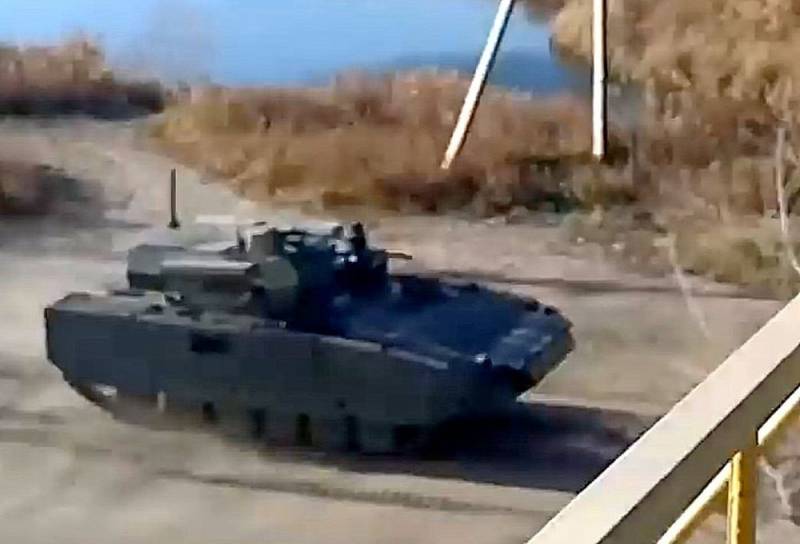 A video appeared on the Web, which allegedly depicts one of the stages of testing a new infantry fighting vehicle being developed for the Russian troops. Experts suggest that the footage shows a B-18, known as a modernized BMP-2 with an uninhabited Epoch combat module.
BM "Epoch" began to develop in 2013, but was first shown to the public only six years later. It was specially created for installation on the promising Kurganets-25 BMP, but due to a delay in its development, they decided to put the new BM on the BMP-2 and BMP-3 infantry fighting vehicles already in service. The specified combat module is equipped with an automatic low-ballistic gun LShO-57 (AGS-57) of 57 mm caliber (firing range 6 km), two launchers of the Kornet ATGM (4 ATGM ammunition, range 8-10 km), a new missile system " Bulat" - retractable launcher with small-sized guided missiles designed to destroy lightly armored
equipment
and firing points of the enemy (8 units), as well as a machine gun - a coaxial PKTM (ammunition load of 2000 rounds).
At the same time, experts consider the B-18 a hybrid and a budget option for the Kurganets-25, i.e. one of the products of the project of a promising universal medium tracked platform developed by the state corporation Rostec for a decade. The difficulty lies in the fact that the military, since 2015, wants to get an infantry fighting vehicle with a low profile, not a high one, calling it "a grenade launcher's dream." However, there is very little information about the B-18, but from the presented frames it can be concluded that very powerful dynamic protection is installed on its sides.
But there is a certain amount of data about the updated B-19 - an improved version of the BMP-3 with the Epoch BM installed. In 2017, the Ministry of Defense of the Russian Federation ordered a batch of such armored vehicles for experimental military operation. In 2021, a B-19 platoon was spotted at the Mulino training ground during Zapad-2021 exercises. Moreover, the first samples were without BM "Sphere".