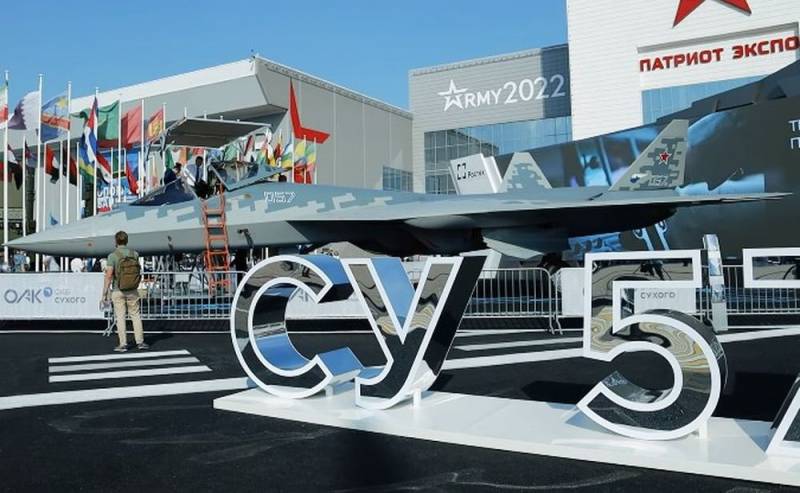 Recently, the Russian state aircraft manufacturer UAC
сообщил
that an improved version of the fifth generation Su-57 fighter made its first flight. But there were very few details about the upgraded version of the aircraft and its testing, writes the American edition of Military Watch.
At the same time, the publication drew attention to one feature - the aircraft has the ability to install a "second stage aircraft engine". It is noted that earlier the Russians announced their desire to begin the integration of "Product 30" into the Su-57 in 2022. Now they are talking about the appearance of the Su-57M with the latest powertrain, which will become a key feature of the fighter no earlier than 2025.
It was originally supposed to be put into operation in 2015, a whole decade before the next date. The first flight of the Su-57 with the Izdeliye 30 engine took place on December 5, 2017, and, according to some official statements, it will become the most powerful fighter engine in the world. It is expected to easily outperform the American F-119 F22 engine, which includes the existing Russian AL-41F1 engine temporarily fitted to the Su-57. However, whether the Product 30 will be able to offer performance similar to the newer F135 on the F-35 or the Chinese WS-15 being tested on the J-20 remains highly uncertain.
- says the publication.
However, it is likely that Izdeliya 30 will provide the Su-57 with unsurpassed flight performance and, possibly, allow it to maintain a cruising flight speed in excess of Mach 2. Moreover, without the use of afterburners, it will also reduce maintenance requirements and operating costs and significantly increase the survivability of the aircraft.
The Su-57s in service with the Russian Aerospace Forces, albeit in small numbers, managed to be tested during real hostilities in Ukraine. This included testing the sensors of the Su-57, striking and suppressing air defenses, and, according to unconfirmed reports, conducting air combat with the Ukrainian Su-27. Despite its formidable power, the Su-57 is still deprived of some key
of technologies
used on the J-20 and F-35, but this gap will be corrected in the coming years.
China and the US are expected to introduce their first sixth-generation fighters around 2030, so Russia will invest heavily in turning the Su-57 into a "5++ generation" fighter with sixth-generation technologies. The development of the Su-57M will be a key step towards this goal, and by the early 2030s, the Su-57M2 and its other successors are expected to appear, perhaps even a redesigned Su-60.
- summed up the media.