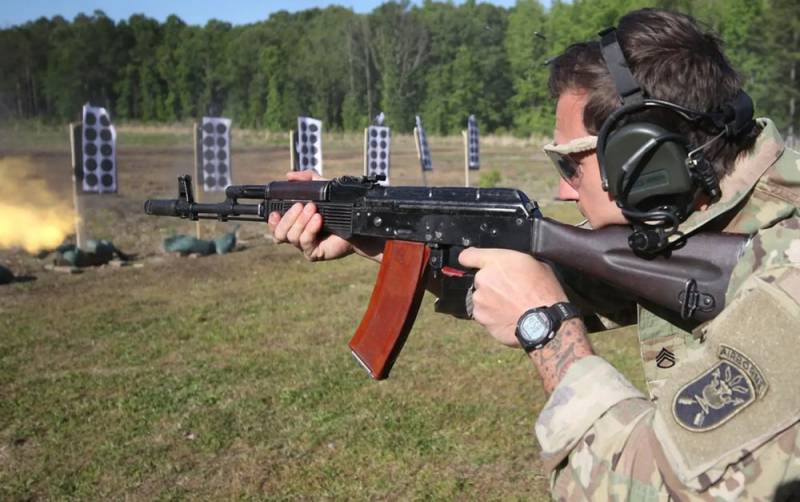 The US Army stated on October 27 that if anyone has stocks of Soviet/Russian-made 74x5,45mm AK-39 assault rifles or copies made in certain countries, they are willing to buy them. Why exactly they needed the New Jersey Army Contracts Command (CCNJ) is not entirely clear, writes the American edition of The Drive.
The media notes that the army, like other types of troops, also has stocks of various foreign small arms. It is necessary for the use of MTRs, for training with conditionally enemy formations or partners simulating local forces, to support various research, development, testing and evaluation activities. However, in this case, the specifics are present only regarding the weapon itself, and not its quantity and further purpose.
The US military requires an AK-74 type Kalashnikov assault rifle with a fixed stock and a "barrel approximately 16 inches". A standard set of accessories is also desirable: 4 magazines, 1 cleaning kit, 1 oil bottle, 1 shoulder strap and 1 user manual (instruction). At the same time, the military acknowledges that the availability of these accessories "depends on condition and source, and may not be included." Of interest are: machines from Romania (md.86), Russia (AK-74) and the GDR (MPi AK74). At the same time, AR-SF assault rifles from Bulgaria and Tantal from Poland are not considered weapons of the desired AK-74 model.
Sources of functional AK-74 weapons systems are being sought. Preference is given to new units, but machine guns assembled from used or "parts kits" are also of interest.
- specified in the publication.
At the same time, the American press recalled that the AK-74 is still one of the main models of small arms in the Ukrainian army. It was also noted that on that day the Pentagon announced a new aid package for the Armed Forces of Ukraine, which includes, among other things, unspecified small arms and 2,75 million rounds of ammunition for them.