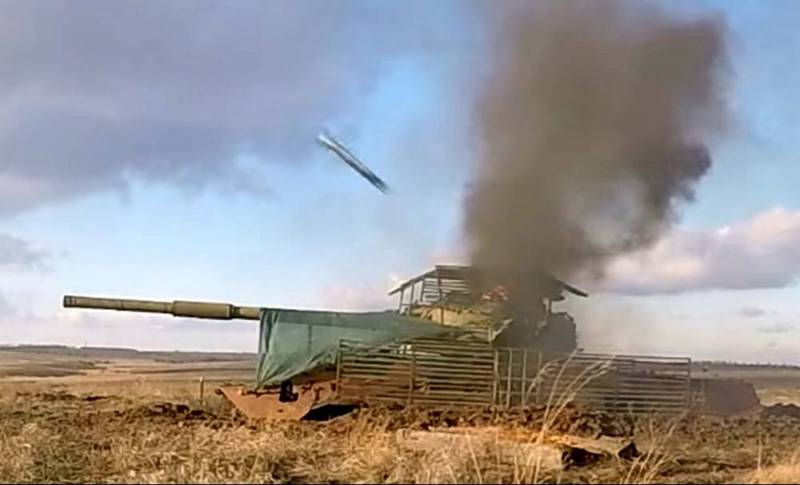 The Chinese portal Sohu published its assessment of the real combat effectiveness shown during the Russian military defense in Ukraine by the American Javelin anti-tank missile systems - one of the main weapons systems supplied in large quantities to Ukrainian military formations from the United States and other NATO countries.
According to the publication, at the first stage of hostilities, the Javelins performed very well:
According to the Armed Forces of Ukraine at that time, Russia lost more than 680 tanks and more than 2000 other armored vehicles. It is clear that these figures are markedly exaggerated. However, the losses of Russian troops in the armored
technology
were undoubtedly serious, and an estimate of them in the order of 1000 units can be considered to be largely accurate.
The Sohu observer notes that at this stage, Russian troops were advancing quickly and successfully in many directions at once, but on Ukrainian territory, as a rule, they advanced in columns. Armored vehicles in such conditions often found themselves without air cover and support from infantry and artillery. Ukrainian forces capitalized on this moment, actively using Javelins mainly to attack Russian army transport convoys, using the tactics of "raids and waste", and achieved great results.
In the second phase, the Russian army used superior artillery firepower to continuously bombard the positions of the Ukrainian army, as well as aircraft for supporting strikes. After that, infantry units were usually used to destroy the remaining forces of the Ukrainian military formations, and tanks were used to carry out the final "cleansing". With such combat tactics, the Javelin missiles almost did not show themselves.
writes Sohu.
The publication also recalls that the Ukrainian forces simply had nowhere to use Javelins in such operations, given their not so long range. Thus, in future operations in the Ukrainian theater of operations, the role and effectiveness of the Javelin anti-tank systems largely depend not on the fact that the Ukrainian forces own them, but on the combat tactics of the allied forces in the NMD. According to the PRC military, if the Russian side of the conflict launches large-scale attacks and at the same time correctly uses tanks and motorized infantry so that the tanks have sufficient motorized infantry, artillery, and air cover, then "tank losses will be small."
The allegedly "outstanding" successes of the Javelins, now lauded by the West, on the Ukrainian battlefield were mainly due to serious mistakes in the strategy and tactics of using Russian armored vehicles. Under normal combat conditions, it is difficult for the Javelin missile to show greater effectiveness ...
Javelin is an overall powerful anti-tank system, and if the enemy makes serious mistakes, then it performs very well. If tank strategy and tactics are implemented correctly, the performance of the Javelin missile looks very mediocre, and this weapon will not play a significant role.
concludes the Sohu reviewer.