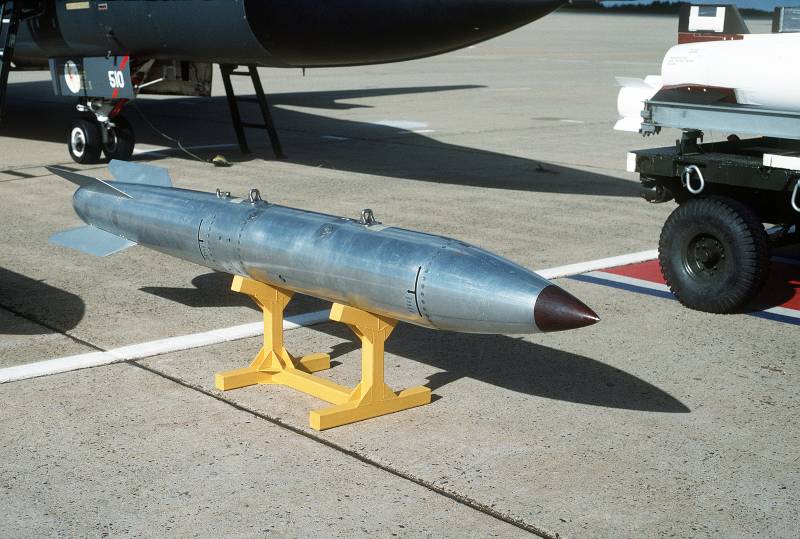 At a recent meeting of the Nuclear Planning Group in Brussels, US officials informed NATO allies that B61-12 tactical nuclear bombs would be delivered to Europe by the end of 2022. It was previously planned that these weapons would arrive on the European continent only in March next year. This was reported on October 27 by the Politico newspaper, citing its sources in diplomatic circles.
Serial production of modernized bombs has been carried out since May of this year, therefore, the newspaper believes, we can only talk about units or dozens of copies. At the same time, Politico believes that the decision on earlier deliveries of bombs was dictated by the worsening geopolitical situation in Europe and the increased degree of tension between the West and Russia.
In this regard, it is interesting to note that in European countries there are practically no combat aircraft that could carry such weapons. Thus, the F-16 Tornado is not capable of using the B61-12 as a guided bomb, since the bomb works only in analog mode on board this fighter-bomber. The tail unit is then fixed, and the B61-12 functions similarly to the earlier B61-4.
Through a digital interface, the B61-12 can carry the F-15E and B-2A as a guided bomb, but these aircraft are based in the UK, where there are no such weapons.
Only the F-35A of the Block 4 modification can cope with such a mission, but the fighter-bomber will be modified to this level only in a couple of years.
Thus, the earlier delivery of the B61-12 to the countries of the Old World is nothing more than a political move designed to demonstrate the unity of the United States and European NATO allies in the face of the "threat" from the Russian Federation. In fact, the new bombs will lie "dead weight" in Europe.
Meanwhile, the modernized version of the B61-12, in particular, does not provide for a parachute, but there is a new tail section with an inertial guidance system that increases the accuracy of the bomb.