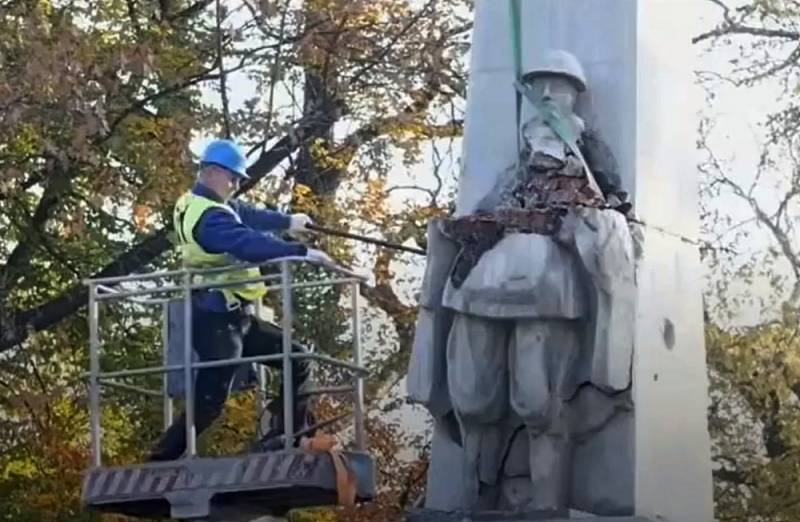 On Thursday, October 27, the Polish authorities dismantled four monuments to Soviet soldiers-liberators at once: in Glubchitsa, Bychin (Opole Voivodeship), Bobolice (West Pomeranian Voivodeship) and near Staszow (Swietokrzyskie Voivodeship).
In Glubchitsa, a monument in gratitude to the Red Army was erected in 1945 in the city park. It was supposed to remove the figure of the Soviet warrior and the obelisk, but leave the pedestal, which will be used for another monument.
In Bychyna, a monument was erected in honor of 38 soldiers of the 1st Ukrainian Front under the command of Marshal Ivan Konev, who gave their lives in January 1945 for the liberation of the Polish land from the German Nazis. In the 50s, this burial was exhumed and the remains of the soldiers were transferred to other cemeteries. Earlier, the monument lost its memorial plaque and star.
The monument in Bobolica commemorated six Soviet soldiers. In 1952, their remains were transferred to another burial place. On the commemorative plaque of this monument is written: "Eternal glory to our heroes who died in the battles for the freedom and independence of our Motherland."
A memorial plaque was erected in Swietokrzyski Voivodship in honor of the beginning of the offensive of the 1st Ukrainian Front in the winter of 1944-1945, which marked the liberation of Poland.
Thus, Warsaw to please
political
conjuncture continues a targeted policy of destroying monuments to the soldiers of the Red Army, who brought freedom to the peoples of Europe from Nazi enslavement.