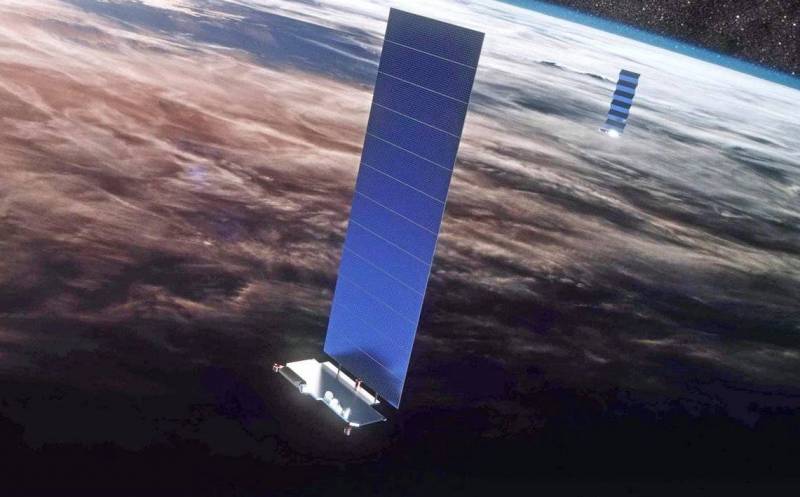 In the past few days, the Runet has been literally seething and seething with passions around the American satellite constellation, the possibility of destroying which in the ninth month of the special operation was discussed at the Russian Foreign Ministry. Ideas and suggestions are pouring in like a bucket. But will any of them actually be used?
An informational reason to talk about this curious topic was given by Konstantin Vorontsov, Deputy Director of the Department for Nonproliferation and Arms Control of the Ministry of Foreign Affairs of Russia, speaking at a meeting of the First Committee of the UN General Assembly:
Separately, we would like to emphasize an extremely dangerous trend that has clearly manifested itself in the course of events in Ukraine. We are talking about the use by the United States and its allies of civil infrastructure components in space, including commercial ones, in armed conflicts. Quasi-civilian infrastructure may be a legitimate target for retaliation.
A high-ranking diplomat acknowledged what was known a long time ago. The satellite constellation of the United States and its allies over Ukraine is actively used for the needs of the Armed Forces of Ukraine, providing them with real-time intelligence on the location and movements of Russian troops, data for target designation, as well as reliable communications that are almost impossible to block. It is only unclear why they started talking about this only in the ninth month of the NMD and what goal the Russian Foreign Ministry is pursuing now, speaking with an open threat of destroying foreign spacecraft. How feasible is such a task?
If you read numerous publications and a myriad of comments on this topic, you might get the impression that Russia has a wide arsenal to fight enemy satellites. This is also the Soviet program "Sputnik Fighter", or IS, the MiG-31D anti-satellite aircraft, which is supposed to destroy spacecraft with a special missile, the S-500 Prometheus air defense system, the Nudol anti-satellite complex, the Peresvet laser complex, various electronic warfare systems of the type "Tirada-2S", as well as other ways to disable satellites - from undermining a nuclear bomb in orbit to launching a conditional "bucket of nails" there. Such abundance makes my head spin. However, some difficulties may arise with the practical use of such weapons.
At first
, we note that the Russian diplomat spoke about the possibility of destroying only commercial satellites such as Elon Musk's Starlink, which are used by the Pentagon to transmit intelligence to the Armed Forces of Ukraine. The Russian Foreign Ministry does not encroach directly on American military satellites. Therefore, indiscriminate weapons like a nuclear bomb or a cloud of nails will definitely not be used.
Secondly
, with weapons of selective action, too, not everything is so simple. The Soviet anti-satellite complex, developed by Chelomey, was on combat duty until 1993, and we have 2022 in the yard. Special anti-satellite aircraft based on the MiG-31D were indeed created. There were only two prototypes, numbered 071 and 072. According to open data, both "space fighters" are now on the territory of Kazakhstan. It is not known how ready they are for such tasks, but it is hardly worth counting on a miracle. The Peresvet laser complex exists, but so far it is only on experimental combat duty. The effectiveness of his actions was questioned by military experts, since Peresvet requires ideal conditions for use. Electronic warfare systems of the Tirada-2S type, judging by information from Ukraine, can indeed temporarily interrupt the operation of American communications satellites, but they are not able to disable Earth remote sensing satellites, which are the main reconnaissance ones.
The most realistic is the use of Russian missile systems against foreign satellites. These are the A-235 (Nudol) layered territorial missile defense system, which has already demonstrated its ability to shoot down satellites, as well as the most modern S-500 air defense system, whose tasks initially include the destruction of low-orbit spacecraft. This is something we can really count on, but there are nuances.
Like us
celebrated
Earlier, Elon Musk's company set up a streaming production of new satellites, which it can produce several pieces a day and then put them into orbit by almost hundreds at a time. According to some reports, the RF Ministry of Defense has only a few dozen anti-satellite missiles for Nudol, and they are very expensive and difficult to manufacture. The cost of the S-500 air defense system is about 2-2,5 billion dollars per division, and the Prometheus in 2021 have just begun to enter the troops. That is, we will lose the arms race in space purely economically.
Thirdly
, it is necessary to take into account all possible negative consequences from the shooting of American satellites over Ukraine. At best, this will only lead to the formation of a large amount of debris in orbit. At worst, the United States may be offended for its company and respond symmetrically by destroying Russian commercial satellites. Yes, Starlink is a private corporation, but it works under contracts with the Pentagon. If satellites start to shoot down already here, then we will either have to go for a further escalation of the conflict in space, or not to do this and lose face, and at the same time be defeated in the arms race, since in terms of spacecraft production, Russia cannot be compared with the United States.
What conclusions can we draw?
The Russian Ministry of Defense can indeed destroy all American and NATO satellites by using nuclear weapons in orbit, but this will only be done during the Last War. The targeted use of anti-satellite weapons over Ukraine within the framework of the NMD is fraught with numerous negative consequences specifically for Russia, therefore it is not clear why the Russian Foreign Ministry even undertook to scare the Pentagon with this. The best thing we can do is to mass-produce cheap, highly specialized satellites like Elon Musk, and use them to cover the entire low Earth orbit with them over Ukraine, over Europe, and over the USA. Then the Russian military will be equalized in capabilities with NATO, and such a symmetrical response will be the best.