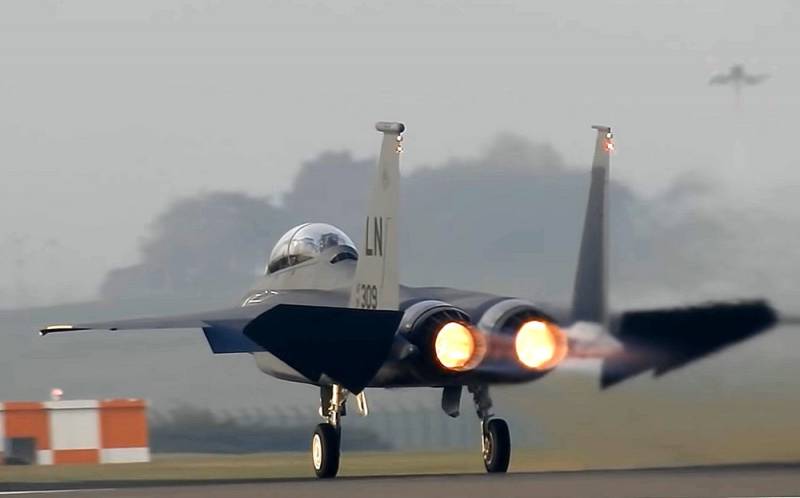 Military Watch Magazine reports that the US Air Force leadership has decided to withdraw F-15C / D Eagle fighters from the Kadena base in Okinawa. This air base served to counterbalance the Chinese Air Force in the East China Sea, and primarily to protect US interests in the problem around the island of Taiwan. Clearly, amid tensions over the disputed island and the growing capabilities of China's military, the Pentagon plans to replace outdated F-15s with modern fighters.
The National Liberation Army of China is already armed with fifth-generation J-20 Chengdu fighters, and the Air Force is based on J-15 fighters, created on the basis of Russian Su-27s. Despite the modernization of the F-15C / D, during which the aircraft were equipped with new missiles and radars, the advantage in the air over Taiwan remains with China.
The Pentagon's problem is that there is virtually nothing to quickly replace the F-15C / D fighters on Kadena. The fifth-generation fighter F-22 Raptor, obviously inferior to the Chinese J-20, is in service with the US Air Force in small numbers due to its unreasonably high cost. The latest modification of the F-15EX, despite improved avionics and weapons, is inferior to the PLA aircraft. At the same time, the main batch of these machines is expected only in the middle of 2023, which makes it impossible to quickly replace the squadron in Okinawa.
The US Air Force's fifth-generation F-35A fighter could be a better replacement for the F-15, but this aircraft has yet to be finalized by the manufacturer. The current modification has been criticized by the Pentagon due to a number of technological problems during operation. The declared sixth-generation fighter for the US Air Force is still at the design stage, and its arrival at airfields should not be expected before 2030.
The Taiwan Strait remains the main center of tension between Washington and Beijing. Therefore, the Pentagon's decision to withdraw fighter jets may prompt China to take more decisive action.
- writes Military Watch Magazine