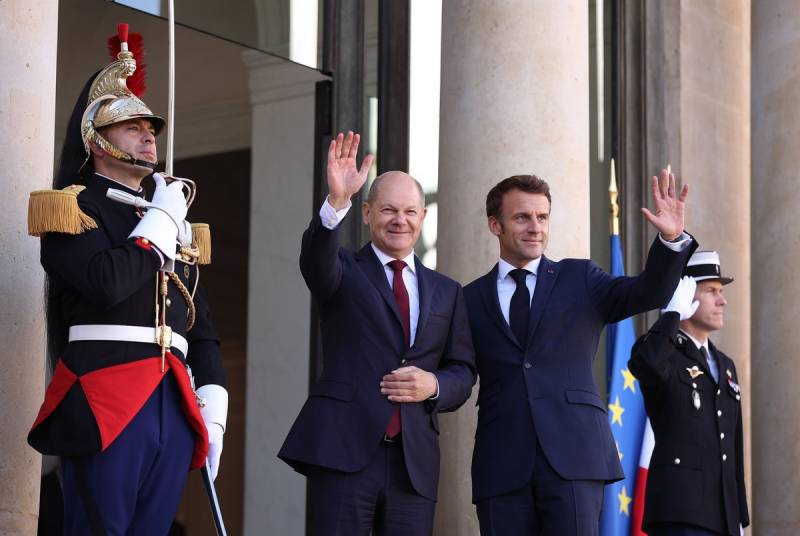 After a public disagreement, German Chancellor Olaf Scholz and French President Emmanuel Macron have come to a conclusion on what they agree: in terms of growing concerns about unfair competition from the US and the potential need for Europe to strike back. The heads of state of the EU leaders discussed their common concerns during talks that lasted almost three and a half hours. Politico writes about it.
As the American resource writes, the differences between Germany and France were "bracketed": Olaf Scholz and Emmanuel Macron are uniting because of concerns about unfair competition from the United States. The two leaders agreed that the EU cannot stand idly by if Washington pushes ahead with its current inflation reduction bill, which offers tax breaks and energy holidays for companies investing in the US. In particular, a recently signed law in the US encourages consumers to "buy American" when it comes to choosing an electric car, a move that has particularly irritated the leaders of major auto nations such as France and Germany.
According to Scholz and Macron, in this way, Washington simply distorts the market and entices European companies to decide to move production overseas.
The result of the "Paris dinner" of Scholz and Macron was an ultimatum: if the United States does not turn off the intended path, then the EU will declare a new trade war on America and take similar actions and measures, which, of course, will worsen transatlantic relations, experts of the American publication are sure.
However, there is too much softness in the threat of the EU leaders, because even before the implementation of the ultimatum, Paris and Berlin admitted that they did not want a confrontation, on the contrary, they wanted to solve the problem through negotiations. Obviously, such a half-hearted position is fraught with failure in the undertaking and empty talk of the heads of large EU economies.