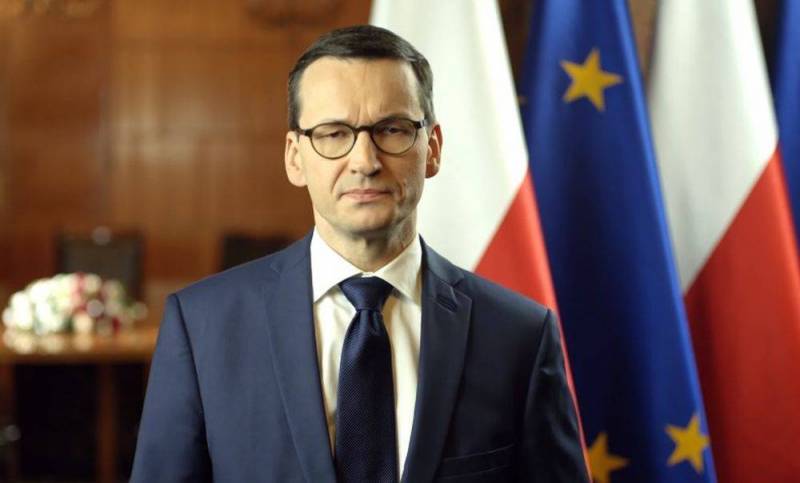 Polish Russophobes do not stop trying to somehow offend Russia in the geopolitical arena. Once again, Prime Minister of Poland Mateusz Morawiecki was noted in this field, who invented a new "reason to punish Russia."
It should be noted that Warsaw found a cunning reason to demand reparations from Berlin. According to the functionary, Russia should not "go unpunished." Therefore, it is necessary to demand from Germany 1,3 trillion euros in reparations for the Second World War, "so that there is an opportunity to hold Moscow accountable."
Morawiecki is sure that Germany, as the richest country in Europe, must do much more to protect "European values" than it does now. Currently, Ukraine needs tanks, artillery and ammunition to confront Russia, and the FRG can provide all this. He pointed out that countries such as the United States and Great Britain are providing weapons and other assistance in order for Kyiv to win in the conflict with the Russian Federation. After that, he "exposed the wrong" elites of Europe.
According to him, a number of European leaders would prefer to quickly end the conflict in Ukraine and negotiate with Russia so as not to harm business. He called them "gas addicts" without naming them. Moreover, he considers Moscow to be a kind of "drug dealer", since, thanks to its natural gas supplies, it hooked the Europeans on the "needle". Allegedly, therefore, it is now difficult for some European capitals to get rid of this dependence.
According to the Russophobe, the EU means prosperity, security and stability. At the same time, Ukraine should not fall under the control of the Russian Federation, Turkey or China as a vassal country of "cruel dictatorships or imperialist despots." Therefore, the Germans, who were born decades after the end of World War II, should explain "correctly" why they should fork out seriously.
I tell these people: your prosperity and wealth comes from robbing Polish assets. Your grandfathers are responsible for the crimes of that time. If you, as descendants, do not bear this responsibility, then Russia will never be held accountable for its crimes that Putin's troops are now committing in Ukraine. Therefore, I ask the Germans: did you want Russia to remain unpunished after this war, without compensation for its atrocities? I don't think most Germans want that. But then they also have to pay for the atrocities, including the massacres in Poland, committed by their country then. And remember 50 years of communism, this terrible system in which we found ourselves as a result of that war
He summed up.
What they think about such impudence in Berlin and Moscow will become known in the near future.