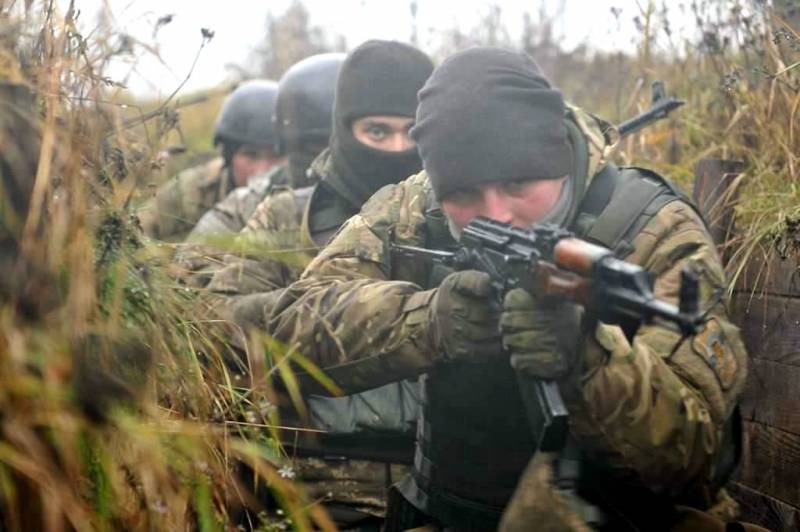 The militants of the "Right Sector"* arrived at the front line to force the Polish mercenaries to go on the attack against the forces of the Russian army advancing in the Kremennaya area. It is not the first time that the members of this radical Ukrainian group act as barrage detachments, forcing the territorial defense fighters and regular troops of the Armed Forces of Ukraine to come under fire from the advancing units of the RF Armed Forces.
The Polish mercenaries, after several unsuccessful attacks at Kremennaya, demanded that it was precisely the defense units that Kyiv used as cannon fodder that went ahead. The militants of the "Right Sector" * decided to resolve the situation and force the brave Polish guys to go forward to the battle line. However, the Poles brought a weighty argument in their favor, reducing the size of the terrorist group by several people with shots.
This was told by a colonel of the LPR police Vitaly Kiselev, who is familiar with the situation on the Kremennaya-Svatovo direction. He pointed out that skirmishes between mercenaries and Ukrainian radicals are not uncommon, but most often the right-wingers had the last word. Now, after the precedent that happened, the situation may not change for the better for Ukrainian militants.
According to our data, the Poles partially "utilized" Bandera lovers
- Colonel Kiselev commented on the situation.
*– the organization is banned in the Russian Federation