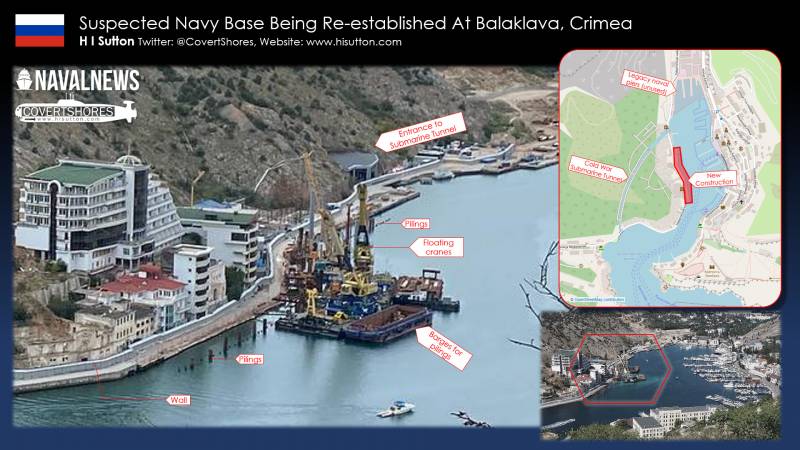 Active construction work
equipment
in Balaklava Bay in Sevastopol, as expected, attracted the attention of Western media. According to Naval News, Russia plans to reopen the secret base in Balaklava.
After the Second World War, the favorable geographical position of the bay led to the creation of a secret base of the Black Sea Fleet here. In the 50s of the last century, tunnels were cut in the rocks, where Project 641 submarines could be secretly based. The narrow bay of Balaklava provided protection for the base from storms and the attention of foreign intelligence. Now the museum "Underground Sevastopol" functions in the tunnels of the bay.
Naval News draws readers' attention to the appearance of floating cranes at the opposite coast of the bay from the museum. The publication suggests that the Russian military leadership initiated the return of warships and submarines to Balaklava.
The photographs show that the Russian fleet is restoring the naval base in Balaklava. An isolated bay in the south of Crimea is ideal for hiding Russian submarines. At the same time, construction work is underway at the main naval base in Sevastopol
- writes the edition.
At the same time, a functioning underground museum, an abundance of tourists and yachts in the bay are not taken into account. Assumptions about the civilian purpose of the object under construction in Balaklava Naval News categorically rejects. The modernization of the base of patrol ships of the border troops of the FSB of Russia began even before the start of the NMD, and this is not a military secret.