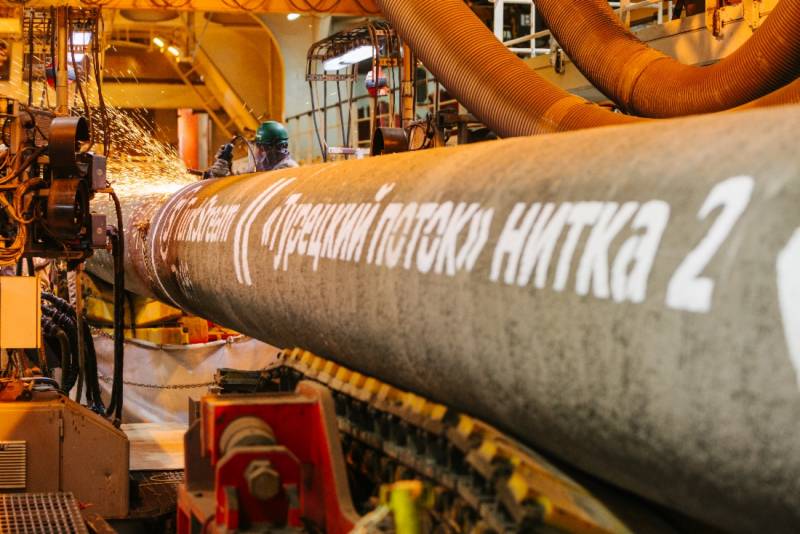 Relations between Russia and Turkey are reminiscent of forced ones. More precisely, Turkey is squeezing the most benefit out of the current situation than Russia. Bilateral cooperation has become, as they say now, "toxic" for the Russian Federation. However, having reached a certain point of confidence in impunity, Ankara crossed the line by encroaching on the greatest possible breach of trust in the energy sector, being connected to the only export pipeline for supplies to the EU.
Such a "gas hub" will definitively erase Moscow's importance as Europe's gas partner, and Ankara will be able to trade Russian gas with the EU without the restrictions currently imposed on the Russian Federation. Turkey has already begun to prepare the ground for the creation of a gas hub in the country. This was stated by the Minister of Energy and Natural Resources of the country Fatih Denmez.
Earlier, Russia and Turkey reached an agreement in principle on the creation of such a hub. And the Turkish side has already begun to show unprecedented initiative, as evidenced by the words of the head of the Turkish Ministry of Energy. But as a result of the implementation of the idea, the role of the "savior" of Europe will go to Ankara, which is not under sanctions.
Understanding Moscow's concern, Ankara is already making conciliatory and reassuring statements that "Turkey will not abuse its position" as a hub for Russian fuel. The press secretary of the President of the Russian Federation Dmitry Peskov also demonstrates a calm position, in his words, "fully trusting" the Turkish partners.
However, Russia already has experience of what it is like to be a devoted close partner - Germany, fed by cheap inexhaustible gas, responded in the most rude way in the form of sanctions and arms supplies to Ukraine. Ankara is also preparing something similar, always pursuing only its own goals.