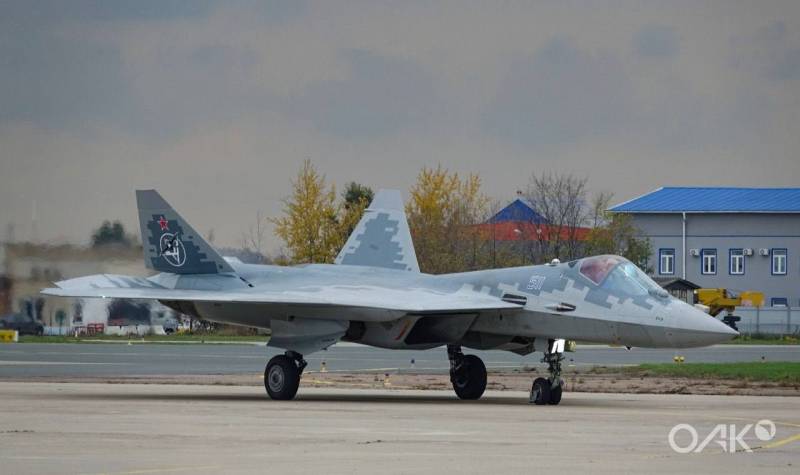 October 21 in Zhukovsky (Moscow region) at the airfield LII them. M. M. Gromov passed the first flight of the modernized fifth-generation multifunctional fighter Su-57. On October 25, the public was informed about this by PJSC United Aircraft Corporation (part of the state corporation Rostec).
The aircraft giant said in a communiqué that the plane took to the skies and spent 56 minutes there without any complaints. The aircraft was piloted by Honored Test Pilot of Russia, Colonel of the Reserve Sergei Bogdan, Head of the Flight Service of the Sukhoi Design Bureau.
According to PJSC "UAC", the Su-57 is testing a set of on-board equipment "with extended functionality" - intelligent crew support and the ability to use a wide range of new types of weapons. In addition, the Su-57 now has the ability to install a "second stage" power unit (as long as the AL-41F1 is used on it).
We remind you that the first prototype created using
of technologies
stealth, took off from the ground in January 2010 in Komsomolsk-on-Amur. As of May 2022, the Russian Aerospace Forces had 3 units of serial Su-57 fighters that can carry weapons in the internal fuselage compartments. On September 22, Rostec announced that a new batch (approximately of two units) of Su-57 fighters will go to the Russian Aerospace Forces in the near future, and the pace of production of new aircraft will be increased. The head of the state corporation, Sergei Chemezov, specified that the agreed Su-57s are in a high degree of readiness and will enter the troops before the end of this year.