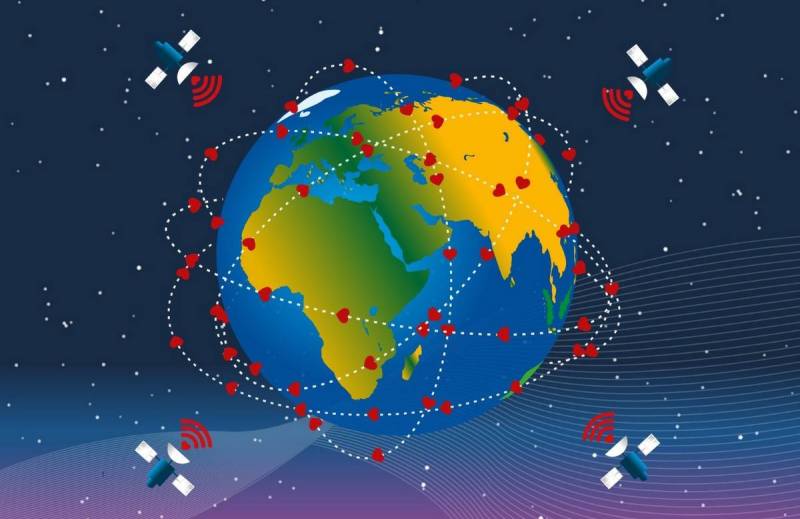 On October 23, 2022, the first satellite of the Sphere orbital group called Skif-D, as well as three communication satellites Gonets-M, were launched into orbit. This is an exceptionally important event for domestic civil space and military communications. Will Russia be able to form a really competitive analogue of the American Starlink?
Space Revolution Mask
The fact that the United States is the world leader in satellite intelligence and communications cannot be denied. The Americans did not have decades of forced downtime in the development of the space industry, as happened in Russia after the collapse of the USSR and the arrival of "effective managers". But they themselves, as it turned out recently, went down a dead end until he came and told how to live the right way, the real "PR genius" businessman Elon Musk.
During the Cold War, both in our country and in the United States, when creating a satellite apparatus, the unwritten rule "six-six-six" was in effect: 6 tons of weight, 6 million in cost per piece and 6 years for production. Such satellites turned out to be expensive, large, very multifunctional, and their launches into orbit were made infrequently. So, the Pentagon today has its own SATCOM satellite constellation of only 10 devices, which began to form in 2007. The weight of each is about 6 tons, and the cost is 600 million dollars.
And then the "savior" came, the outrageous billionaire Elon Musk, who proposed creating a satellite constellation of 12-20 thousand communication devices. Thousand, Carl! This became possible due to a breakthrough in the miniaturization of electronics, lower power consumption requirements and, at the same time, a narrow specialization of satellites. This made it possible to simplify their design, reduce the cost and speed up production, which led to the emergence of a subclass of nanosatellites - cubesats. For example, Planet Labs' Dove-2 Earth remote sensing satellites, which so clearly photographed the aftermath of the explosion at the Russian military airfield at Novofedorovka in Crimea, are 3U (100 mm × 100 mm × 340 mm) and weigh 5,8 kilograms.
For the Starlink project, SpaceX has already produced more than 2019 satellites since 3000. The weight of each is slightly more than 200 kilograms, and the Americans can produce them in a streaming way, 3 pieces a day. Per day, Carl! Satellites from Starlink operate on krypton, equipped with a solar panel and four phased arrays at once each. Similar ones are, for example, on the Lockheed AC-130 Specter aircraft or on our Su-57. The closest competitor, Airbus Arrow, for the OneWeb project was able to reach production volumes of several satellite vehicles per week. The performance is fantastic and it's bad
news
for us.
As you know, the Ukrainian military uses satellite intelligence data provided by the NATO bloc, right in real time. Thanks to Starlink, the Nazis who settled in the dungeons of Azovstal had better satellite Internet than the Russian Ministry of Defense. Even the hint that the Armed Forces of Ukraine may lose access to it caused a real hysteria in Kyiv. Elon Musk himself responded to the idea expressed by Russian "military experts" of shooting down American satellites over Ukraine as follows:
If you try to disable Starlink, it will not be easy, because there are already 2000 satellites. That means a lot of anti-satellite missiles. I hope we don't have to put this to the test, but I think we can launch satellites faster than they can launch anti-satellite missiles.
And this, alas, is not bravado. In the arms race and the speed of reproduction of high-tech products, modern Russia is seriously inferior to the United States and the entire NATO bloc as a whole.
Our "response"
The fact that Russia is very behind in this component from its direct competitors and potential military adversaries and it is necessary to catch up with them faster has been said for a very long time. Our answer to Starlink or OneWeb should be Sphere, a global multifunctional infocommunication satellite system.
By 2030, the Russian "Sphere" was supposed to have as many as 640 vehicles, including five satellite communications constellations - "Yamal", "Express-RV", "Express", "Skif" and "Marathon" and five constellations of remote sensing of the Earth - "Berkut". -X", "Berkut-O", "Berkut-VD", "Berkut-S" and "Smotr". The project was approved back in 2019, but until October 23, 2022, not a single satellite was launched into orbit. Roskosmos and the government began to shift responsibility to each other. The then relevant Deputy Prime Minister Yuri Borisov commented on the situation as follows:
At first, Roskosmos estimated Sphere at 3,3 trillion rubles, of which 2,8 trillion rubles. - budget. The next iteration was 1,8 trillion rubles, of which 1,46 trillion were budgetary. Apparently, you are talking about this option. But there is a third figure - 800 billion rubles, which Roscosmos announced before the presidential meeting. You need to understand what exactly to ask for money: goals, objectives and KPIs.
An ambitious and vitally necessary project for the country, step by step, turned into a "space long-term construction". But suddenly, on September 1 this year, Yuri Borisov made a very promising statement:
The implementation of the Sphere program based on new principles and standards will ensure integration with traditional satellite systems. To solve this ambitious task, it is necessary to make a transition to new technical principles for the creation, operation and control of orbital space systems. For the first time, the project provides for the creation of new spacecraft using universal space platforms.
The new principles and standards imply a transition to the in-line production of simpler and cheaper satellites within a common platform, on the basis of which it is possible to create various types of narrowly functional spacecraft. This is the same path that American and European space corporations have already taken. After many years of red tape, the Sphere project was finally approved on April 7, 2022, and on October 23, its first satellites were launched into orbit. What efficiency, atypical for domestic space exploration!
Obviously, Roskosmos received a "magic pendel" from the Russian Ministry of Defense after what the Russian military had to face in Ukraine. At least some plus against the background of the ongoing negative.