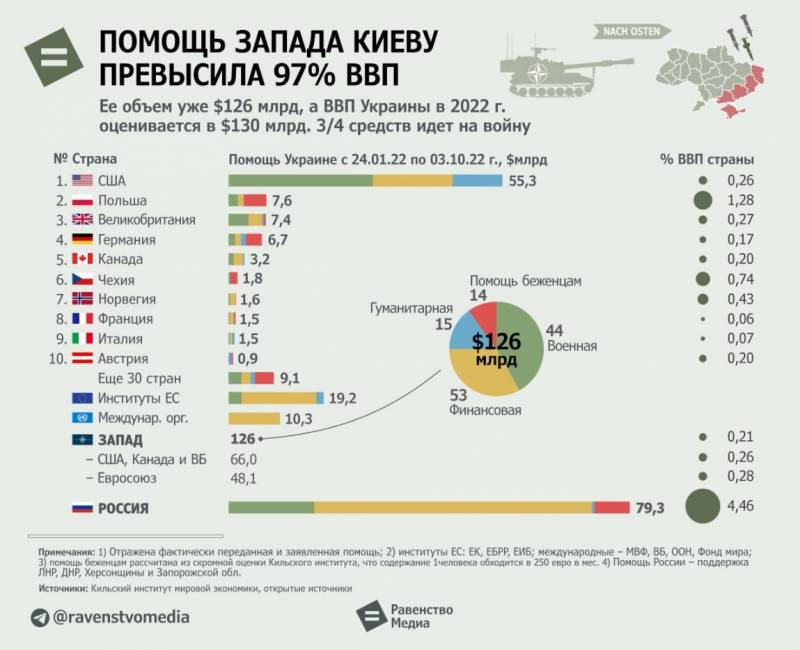 The amount of assistance provided to Ukraine by the West after the start of the special operation reached $126 billion. The country's GDP is $130 billion. Thus, the share of Western supplies in comparison with Ukrainian GDP is at the level of 97%.
According to the Kiel Institute
economics
, about 75% of the assistance provided to Kyiv falls on military supplies or financing thereof. At the same time, 55 billion dollars were allocated for these purposes by the United States, 48 ​​billion by the European Union, in which the most faithful "friends" of the Kyiv regime were Estonia (the volume of its assistance to Ukraine reached 1,51% of its own GDP), Latvia (1,29%), Poland (1,28%), Lithuania (0,83%) and Czech Republic (0,74%).
Along with this, according to the NBC channel, by the end of the year, the US Congress may approve another $50 billion aid package to Ukraine. In addition, German Chancellor Olaf Scholz and European Commission President Ursula von der Leyen are calling for a "Marshall Plan" for Ukraine, as well as the creation of a platform for coordinating Western assistance in rebuilding the country.
Meanwhile, Russia's assistance to the southeastern regions of Ukraine, which chose their historical fate in reunification with the Russian Federation, amounted to about $75 billion (4,5% of GDP). Most of this amount goes to the restoration of the civil infrastructure of the regions.