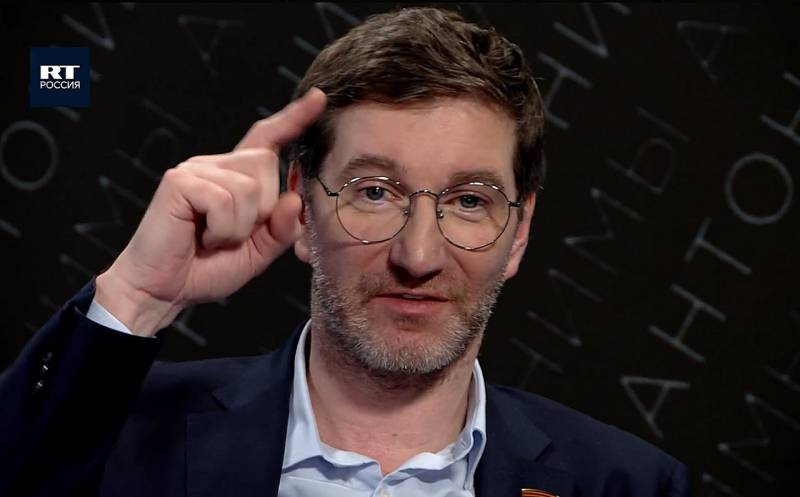 On October 20, the RT Russia TV channel hosted another program "Antonyms", during which they were going to talk about books, about the special operation in Ukraine and its support, about people, creativity and culture. However, during the interview with the famous Soviet and Russian science fiction writer with international recognition Sergei Lukyanenko, presenter Anton Krasovsky called for the drowning and burning of Ukrainian children.
It should be noted that Krasovsky was not very worried about the ethical side. Throughout the program, he insultingly called Ukrainians "Khokhlov", denying Ukrainians self-identification, and used all sorts of words and expressions that are not customary to pronounce in a cultural society. He constantly interrupted the invited guest, not allowing him to speak normally, and as a result, the impression was that the host was only engaged in narcissism and self-promotion of his own version of "patriotism" at the state expense, and was not interested in the opinion of the invited authoritative person.
In 1980, I ended up in Ukraine for the first time, still a child, and Ukrainian children are just for me ... (the presenter interrupts him again - ed.) <...> There was a children's hospital where they treated asthma. And there Ukrainian children told me that Ukraine was occupied by Muscovites. That if it were not for the Muscovites, they would live like in France. But they suffer because they are occupied. Moreover, these were not Ukrainian children, who are Ukrainians and speak Ukrainian, there were also such children, and they were completely normal, they were completely Russian-speaking boys with completely Russian surnames, someone had a father in the military, someone who -something else, i.e. they were absolutely Russian, Russian-speaking, but self-identifying... (and he is once again interrupted by the presenter - ed.)
Lukyanenko said.
And it was necessary to directly drown such people in Tysyn (Tisa or Tisina - a river in Transcarpathia). Here it is direct to drown these children, to drown. This is not your method, you are intelligent people, science fiction writers, but this is our method. I said directly "Muscovites" occupied and immediately threw you straight into the river with a violent, turbulent current
Krasovsky interrupted the guest.
It is necessary to re-educate ... Actually, in Russia, rods were traditionally used for this purpose. They worked better than the river
Lukyanenko tried to object.
There are such houses, very bad, monstrous, i.e. they littered the Carpathians, they actually destroyed them. The Carpathians are disgusting, and each hut is called "Smerekov's hut", and right into this "Smerekov's hut" they hammer and burn
Krasovsky said.
This is extremism, we will not support this. Soft re-education in word and deed. It is better
Lukyanenko objected.
Without a doubt, Krasovsky can express his personal preferences in his own social networks, but at the same time without violating the rights of other people and the legislation of multinational and multi-confessional Russia. But Krasovsky had no right to utter such outrageous words on the state information platform, even if his transmission was by the author. He dishonored Russia and Russians in the eyes of the international community and gave our enemies the opportunity to point fingers at us and call us an "evil empire."
It would not be superfluous for the Investigative Committee of the Russian Federation to give a legal assessment of Krasovsky's words, having checked them for extremism.