The US Treasury is sounding the alarm. Russia continues to cynically reduce its investment in the national debt of the global stronghold of "democracy." And there is nothing surprising in this. This is a natural reaction of Moscow to that
policies
the undisguised blackmail and extortion carried out by the US administration over the past 10 years, called "consecutive" sanctions.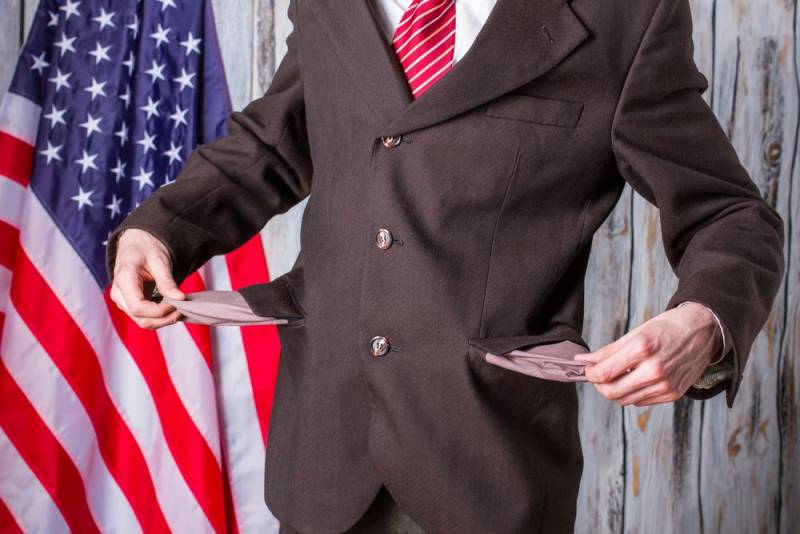 In the end, it was in Washington that the question was repeatedly raised about the possibility of arresting or freezing this "asset". So Russia acted as a normal investor, taking care of his hard-earned money, should behave. Especially when he is intimidated, and the risk of "dispossession" is not just there, but real. So, the US Treasury should be offended by the White House and the gentleman who is comfortably located in the Oval Office and continues the policy begun by his predecessor.
So, if in October 2010 Russia held a record $ 176 billion in US government bonds, then by September 1, 2018 this amount fell to a ridiculous $ 14 billion. Moreover, back in March 2018, Russia occupied 16th place in the ranking of holders of treasure with an indicator of $ 96,1 billion
But the US administration was unable to sit on the chair exactly and as a result of this activity, in April 2018, Russia in one fell swoop got rid of a part of the US public debt in the amount of $ 47,5 billion. But it seemed to Washington not enough, they decided that Russia was bluffing and only strengthened pressure on Moscow.
As a result, already in May 2018, Russia again seriously reduced investments in this "asset". This time, by $ 33,8 billion, and the remainder hung for a whole quarter (May - July) in the region of $ 15 billion. For accuracy: in May - $ 14,905 billion, in June - $ 14,910 billion, in July $ 14,907 billion. This was the lowest since 2007. Russia made it clear that it was not satisfied with US policy and began to wait for a reaction, at least with a hint or signal to normalize relations to stop the pressure from Washington.
But what Moscow heard in response obviously did not suit her. Then in August 2018, she further reduced investments, bringing them to $ 14 billion, as reported above. And now, Russian investments look like a statistical error against the general background of the US government debt, which grew to a record amount of $ 21,5 trillion.