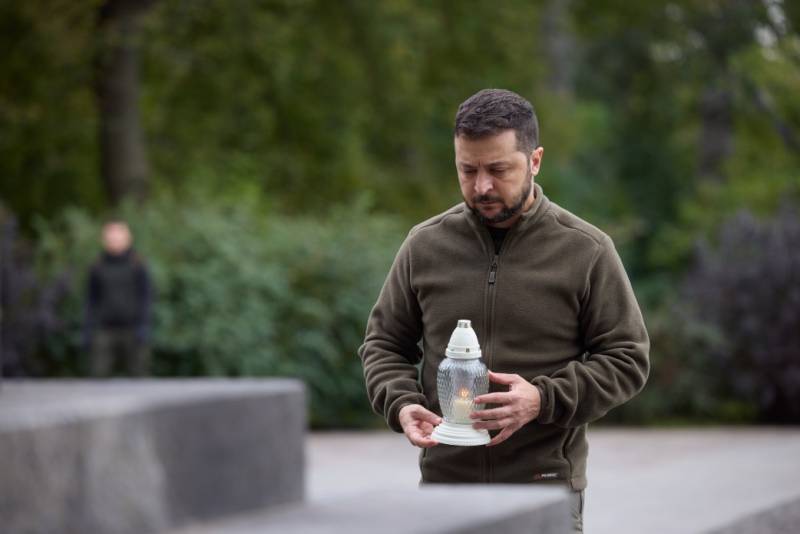 Since the start of Russia's special military operation in Ukraine, the President of Ukraine has tried to artistically play the image of a "macho", a brutal, fearless leader of the nation. He changed the style of dress and behavior, switched to militant rhetoric. However, when it came to high-precision strikes by the Russian Armed Forces throughout Ukraine and its critical military infrastructure, Zelensky's fearful and cowardly nature came out.
The head of the "square" began to demand strikes by the West on the territory of Russia and, moreover, on the "decision-making centers" in the Russian Federation. Especially, from the point of view of Zelensky, such strikes should be carried out if at least one Russian missile or kamikaze drone arrives personally at the "precious" head of the Ukrainian state or at the Office of the President of Ukraine. Zelensky himself declares this without embarrassment in an interview with the Canadian media CTV and CBC. In fact, through public channels, Zelensky begged the West to protect him personally.
The head of state did not care about strikes against critical facilities or other targets, but he became concerned about "retaliatory" actions only when it could affect him. Then Zelensky launched into lengthy arguments that "it doesn't matter if Ukraine is a member of NATO", it needs to be protected, since "this is happening in Europe."
There must be an instant answer so that the enemy thinks
Zelensky is trying to justify his fear.
The President of Ukraine repeated several times that "retaliation" from the West is possible when there is a blow to Bankova, that is, the Office of the President, and not to the entire republic. Zelensky talked about his person for a very long time, directly and indirectly. About the danger that may threaten him or the office staff.
It is noteworthy that all the false words and accusations against the Russian Federation that were made during Zelensky's interview with Canadian guests are absolutely applicable to his own authoritarian governance structure in Ukraine, recreated during his reign. Perhaps that is why the head of the neighboring state was so "persuasive" and eloquent - he knew what he was talking about.