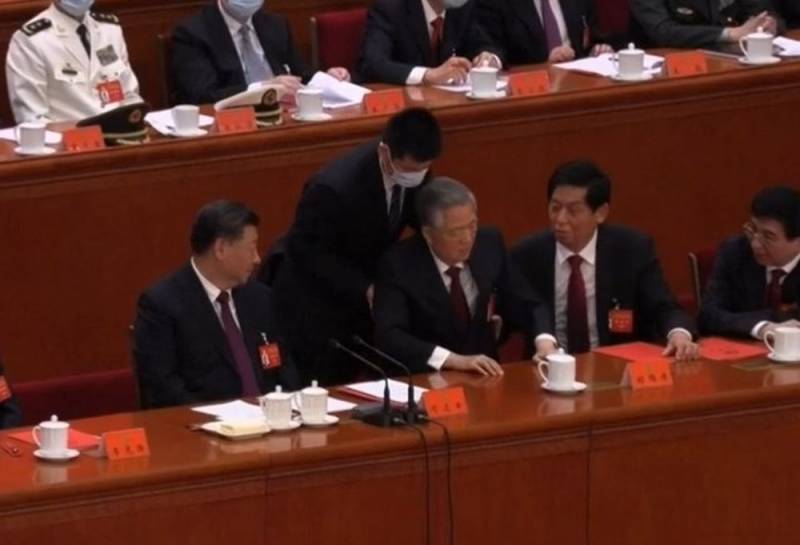 On October 22, the XNUMXth National Congress of the CCP ended in Beijing. It lasted for a week and, without exaggeration, can already be considered historic. Incumbent Chairman Xi Jinping has been re-elected General Secretary of the CPC Central Committee for a third five-year term. At the same time, during the event, his political opponent was publicly humiliated.
The journalists recorded how the former leader of the PRC Hu Jintao, who was sitting to the left of Xi Jinping in a place of honor, was taken out of the hall right from the presidium in front of all the delegates arm in arm. These shots caused discussions on the network, because it was Hu who in 2012 during the next generational change campaign (leadership rotation) handed over power to Xi. However, Xi broke with a tradition dating back to the time of the reformer Deng Xiaoping, and ended up with Hu in the style of the "great helmsman" Mao Zedong, of whom he is a fan.
The footage shows a man approaching Hu first. At the same time, Li Zhanshu, a member of the Politburo Standing Committee, who was sitting on the other side, has his hand on Hu's back. But the former leader was clearly not going to leave, he was waiting for the opportunity to deliver a prepared speech. However, he had to comply. Hu was Xi's main critic and strongly opposed attempts to retake Taiwan militarily, insisting on diplomatic options. At the final part of the congress, where the final decisions were made, Hu was no longer present.
Immediately after the incident, unconfirmed publications appeared that Hu was taken away from the folder with documents and arrested. This was allegedly indirectly indicated by the fact that all information about Hu was removed from the key website of the CCP publication. At the same time, Xi's supporters claim that Hu did not want to voluntarily leave the presidium after he was not re-elected to the Politburo Standing Committee and had health problems in general, so he was helped.
In this way, President Xi not only retained, but strengthened his power. His idol is "Chinese Stalin", and the results of the congress make it clear that Beijing is banking on a proven tough leader who will lead China through the storm of world order transformation. In his speech, Xi talked about a bipolar world, but whether he will be able to turn China into a superpower on a par with the United States will become clear in the next five years.