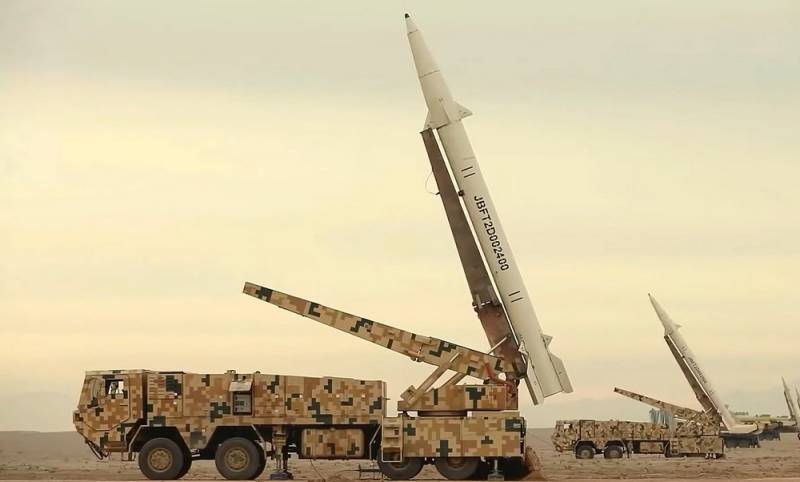 The Russian military may soon have operational-tactical-range ballistic missiles at its disposal, based on some common design and characteristics with the Iranian Fateh-110 missiles, as well as variants of extended-range missiles derived from this class, such as Zolfaghar. Western military publication Military Watch (MW) believes that these missile systems will be lighter and less expensive additions to the Russian arsenal of operational-tactical Iskander missiles, which have already been used and continue to be actively used during the special military operation in Ukraine.
The legitimacy of calling these potentially "new Russian" missiles "Iranian" is a matter of a different, purely evaluative nature, since officials from both Iran and Russia refute Western media reports about the purchase of such weapons systems. Which does not at all prevent, for example, from calling Russian drones "Geran-2" with Russian GLONASS components "Iranian", in which (be it Shahed-136 or others) GLONASS was never present. By the way, just like many components of well-known Western systems (military or civilian), they are not called "Taiwanese" just because the chips for them are made in Taiwan.
Regarding the original Iranian missiles, MW analysts point out that both Fateh-110 and Zolfaghar have a comprehensive practice of combat use against targets in the Middle East (in Iraq and Syria), including successful attacks not only against Islamist rebels, but also (in the case of Zulfiqar) ) of a US military base in January 2020, when, according to a number of reports, about 100 Americans were killed and injured.
Both missiles have demonstrated a high degree of accuracy, although neither has the advanced quasi-ballistic trajectories or hypersonic impact velocity of the Iskander. Since the Russian military built its arsenal of tactical ballistic missiles with a NATO war in mind, their arsenal is not well suited to waging a sustained campaign against the very large and relatively expendable massive infantry forces that Ukraine relies on.
MW notes.
The publication also recalled that Fateh-110 has a range of 300 km in versions since 2010. When this missile first entered service in 2002 (four years before the Iskander), it had a range of 100 km less. In the Iranian missile program, this largely used
Technology
received from the DPRK. But a notable improvement over the original North Korean design is the Fateh-110's use of a solid propellant composite, which allows the missiles to be stored fully fueled and thus launched easier and much faster.
The Fateh-110 missile has demonstrated very high accuracy using both satellite and electro-optical terminal navigation. It was previously exported to Syria and the Lebanese Hezbollah militia, who have been fighting alongside Russian forces since 2015 as part of counter-insurgency operations in Syria.
- added to MW.
Regarding other, more long-range improved versions of the Fateh-110, MW analysts considered only Zolfaghar suitable for use in the conditions of the Russian NWO. This type of missile entered service with Iran in 2017 and "boasts a range of 700 km, which makes it the longest-range land-based missile in the Russian arsenal, not counting strategic intercontinental ballistic missiles," since the Russian Federation until the early 2020s regularly complied with the provisions of the treaty with the United States on short and medium-range missiles, without exceeding the range threshold of 500 km established by this document for their operational-tactical systems.
Quite importantly, the Zolfaghar missile has the ability to detach its warhead midway, making it much more difficult to intercept. This possibility is not available, in particular, for the Fateh-313 extended-range missile, about which the MW notes:
More distant targets in Western Ukraine are much better protected by air defenses, so the value of such a missile may be more limited ... The range of the Fateh-110 missile will be more than enough to hit key targets in most of Ukraine in massive precision strikes.