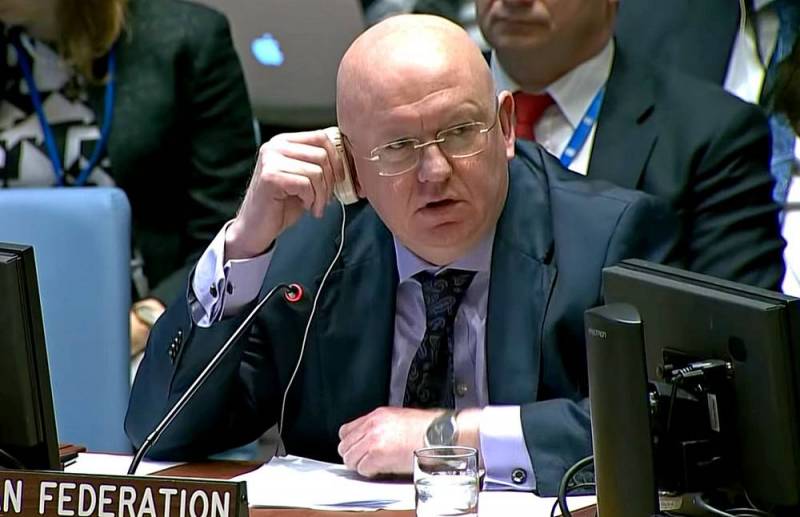 A regular meeting of the UN Security Council dedicated to Ukraine was held in New York. Vasily Nebenzya, Permanent Representative of Russia, spoke at the event. During the discussion, the Russian diplomat outlined Moscow's vision of what is happening.
In his speech, Nebenzia noted that the monstrous terrorist attacks of the Ukrainian authorities against civilian infrastructure remain without any reaction from the aforementioned international organization. According to him, the Crimean bridge, the Zaporozhye nuclear power plant, the Kakhovskaya hydroelectric power station and other objects were attacked. At the same time, the West and Kyiv are spreading a fake about alleged deliveries of drones to Russia from Iran in violation of Security Council resolution 2231 of July 14, 2015 (Joint Comprehensive Plan of Action).
The Permanent Representative of the Russian Federation stressed that the West is diligently creating in the eyes of the world community the image of Ukraine as an "innocent victim of Russian aggression", which needs regular military and other assistance. At the same time, Kyiv has long been using terrorist methods on Russian territory. Therefore, Moscow expects that the UN secretariat will not investigate the UAV on Ukrainian territory. Otherwise, Russia may reconsider the whole range of relations with the UN secretariat, if they decide to conduct this investigation.
Nebenzya specified that Russian UAVs hit civilian targets in Ukraine only because they deviate from the course due to the fire of the Ukrainian territorial defense. In turn, the French 155-mm Caesar self-propelled guns managed to show their power in battle with schools and residential buildings. He recalled that Russia had circulated a letter to the UN Security Council with a call to prevent a catastrophe at the Kakhovskaya hydroelectric power station, which could lead to extremely negative consequences. After that, he added that he would not listen to the permanent representative of Ukraine at a meeting of the UN Security Council.