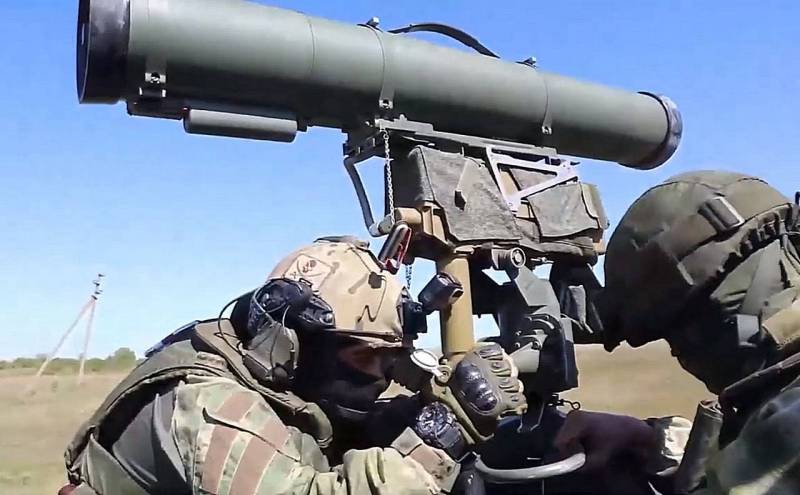 The fighters of PMC "Wagner" are engaged in stubborn battles with the enemy south of Bakhmut - they managed to take control of the railway supply lines of the Armed Forces of Ukraine in this area under their fire control. Earlier, servicemen, together with fighters of the People's Militia of the DPR, managed to occupy several points of defense of the Ukrainian armed forces near Kurdyumovka (10,5 km from Bakhmut).
A large role in the breakthrough of the "Wagnerites" was played by combat
technique
. Thus, the maneuverable T-80BV tanks quickly destroy enemy positions. Near Kleshcheevka, the Wagner PMC deployed the Khrizantema-S anti-tank missile system with a radio command guidance system, thanks to which it is possible to effectively hit the enemy's camouflaged tank equipment.
To help the attacked units, the Armed Forces of Ukraine are pulling up D-20 guns, AN / TPQ-36 Firefinder counter-battery radars and units of the 58th motorized infantry brigade to the Chasov Yar area. In addition, a battalion of the 109th Territorial Defense Brigade is expected to arrive in the region.
The intelligence data of the Armed Forces of the Russian Federation indicate that the 1st mechanized and 3rd separate tank battalions of the Armed Forces of Ukraine are suffering heavy losses, in particular. When hitting them, allied troops use powerful artillery with Malka guns, as well as attack aircraft.
Thus, the successful actions of the "Wagnerites" and DPR fighters in the south can force Kyiv to transfer a number of military formations from the north of Bakhmut, which creates gaps already in this direction.