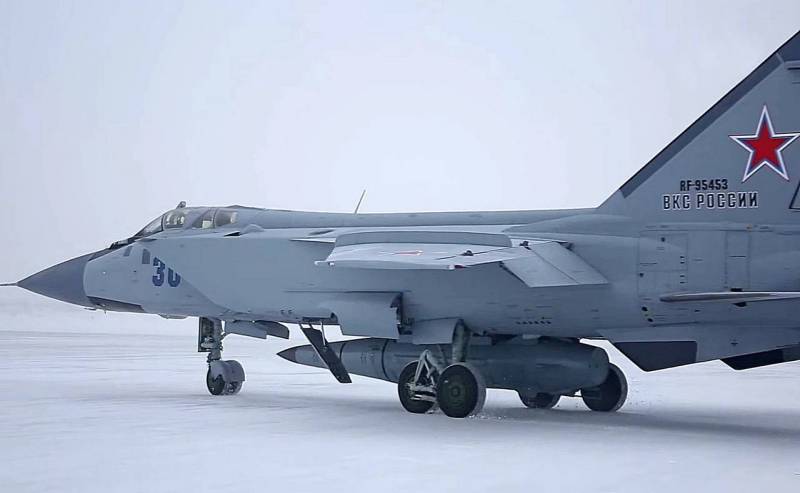 International expert on Russian aviation Petr Butovsky on the pages of The Drive analyzed the possibilities and facts of the use of the Russian hypersonic missile "Dagger". First of all, he noted the difference in the two versions of missile carriers. The first squadron of 11 vehicles was formed from the MiG-31K, while the second was equipped with the MiG-31I.
The difference between them is not very clear. According to one version, the index "K" received combat vehicles of the first series. MiG-31I, in turn, is a modernized version of the carrier "Dagger"
- the expert considers.
He also disputes the index of the X-47M2 missile itself, considering the correct marking of "Daggers" 9-S-7760. Butovsky recalled that the length of this missile is 7,2 meters, the mass is about 4 tons, and the weight of the warhead is 480 kg. "Dagger" has an inertial guidance system with the addition of satellite trajectory correction. On approaching the target, control passes to the homing system based on radar location correction. Petr Butovsky compares the "Dagger" with the Kh-22 missiles, the carriers for which are long-range Tu-22M3 missile carriers, and states the limited capabilities of Ukrainian air defense against any of these missiles.
In fact, "Dagger" is unlikely to change the rules of the game. Its capabilities do not differ significantly from the existing X-22 / X-32. Of course, the Kinzhal missile flies twice as fast as the Kh-22 and is harder to shoot down, but that doesn't change much in this war – Ukrainian air defense will not be able to cope with any of these ammunition. Presumably, the "Dagger", created on the basis of a short-range ballistic missile OTRK "Iskander-M", is more accurate
- writes an expert.
The first squadron of eleven MiG-31K / I was formed in December 2017 on the basis of the 929th flight test center of the Russian Defense Ministry. By the end of 2021, a second group of aircraft equipped with hypersonic missiles was formed. During the JMD, three Kinzhal launches were recorded at military facilities in Ukraine at the beginning of the operation, as well as several launches at facilities in the Kharkiv region in September. Butovsky refers to Ukrainian intelligence and claims that the irregular use of "Daggers" is due to the small stock of these missiles in the warehouses of the Ministry of Defense. He assumes that the number of combat-ready missiles does not exceed 40 units.