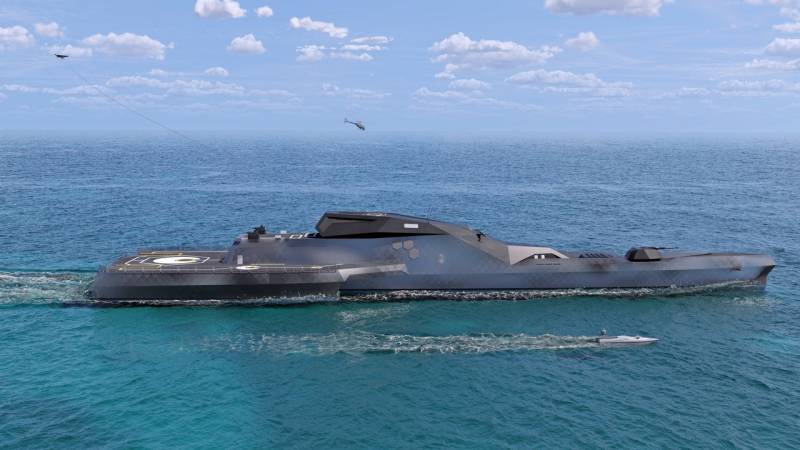 On October 19, the French defense company Naval Group at the 28th International Naval Exhibition and Conference
equipment
and weapons Euronaval 2022 presented the concept of a high-tech and "environmentally responsible" stealth frigate of the future called Blue Shark ("Blue Shark"). The company informed the public about this on its website.
The communiqué said the Navy should engage in future naval battles with innovative technical responses while reducing environmental impact. At the same time, Blue Shark is an evolutionary vision of a fast, stealthy, efficient and sustainable surface combatant with enhanced operational capabilities that can be integrated into modern navies.
His name indicates his potential. Blue - for integrated high environmental technologies. Shark - because it is primarily a warship, a ship of the first rank that meets the mission profile of a frigate. She is ready for intense joint battles, unobtrusive, efficient and hardy.
– specified in the communiqué.
Blue Shark will be equipped with offensive and defensive weapons and can also use many types of drones. The stabilized multi-hull design will allow it to operate in all seas, in the most severe conditions, for several months with simple maintenance. The hydrodynamic performance of the ship is largely dependent on its design, consisting of the main hull and two floats, which ensures drag reduction by half, maximum stability and a low level of acoustic signature.
In the superstructure of the ship, composite materials will be widely used, which will significantly expand the possibilities for using the internal space and means of communication. Blue Shark will also have high combat performance, guaranteed combat readiness, high radar stealth and projection capabilities thanks to the fleet of unmanned vehicles on board.
The ship complies with international environmental regulations, from the power plant and energy management to on-board waste treatment systems. And without compromising their combat capabilities. The Blue Shark will be 160m long, have a maximum width of 37,2m and have a displacement of 5500t.