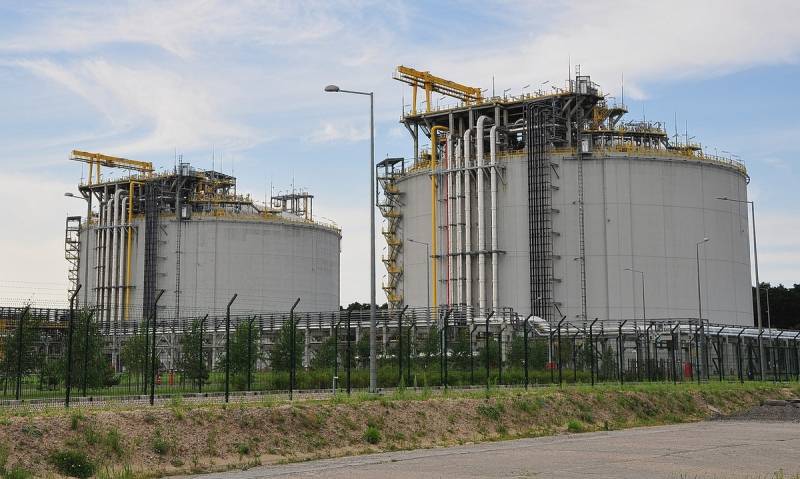 The overflowing gas storage facilities of Europe played a cruel joke on her. In addition to the fact that European officials believed too much in independence from fuel supplies from Russia and went too far with Russophobia, there is also a general
technical
component intervened in the gas crisis, giving it an unexpected new look and scale, putting the general state of affairs on the brink of disaster.
There is a catastrophic situation with the delivery of American fuel to Europe. Dozens of LNG tankers have accumulated off the coast of Portugal and Spain and cannot unload - the terminals and their regasification tanks are overflowing, as European GTS operators do not take raw materials from them, since EU UGSFs are filled to a record 93%. Further filling is fraught with difficulties, since the European infrastructure simply could not "digest" the endless flow of LNG that gushed.
In other words, now that Brussels is doing well with its reserves, it does not need gas, however, the Old World cannot accept cargo for technical reasons. But when gas is needed urgently and in large volumes in the spring, there will be no such influx of LNG, since the current situation quickly "hot up" the market for raw materials and freight of gas tankers, which are in short supply, causing transportation prices to rise. None of the carriers and suppliers will "wait" for Europe when it "can". Alternative markets will be found (eg gas-deficit India) and freight charterers.
Simply put, the gas crisis in the EU has sparkled with new colors. The situation is aggravated by the complete imbalance of the system and worsening forecasts for the winter and early spring. Most likely, tankers with cargo will "run away" to Asia, leaving the Europeans alone with the not at all encouraging fact of the "record" of filling UGS facilities, which caused only difficulties (in logistics and business).