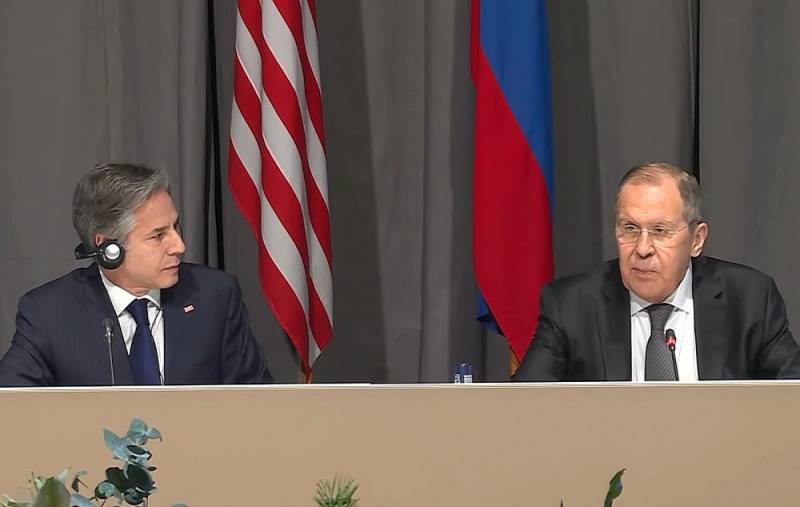 Epigraph: "The enemy is a criminal regime that pushes the citizens of Ukraine to death. The Ukrainians and I are one people and we want one thing, that Ukraine be independent from the West and NATO, a friendly state for Russia" (General Surovikin).
Sergey Surovikin said how he cut off - Khan now to all ukrofascists! And for some reason I believe him; in the West, legends are already being made about his iron character and unbending will. Even from the military school (Omsk Command named after Frunze), Surovikin was called by the troops in no other way than "Severe"; in August 1991, during the days of the State Emergency Committee, his unit was noted in the incident in the tunnel on Sadovoye, when three civilians were killed, after which Captain Surovikin sat down for 7 months in a pre-trial detention center, from which he was released on Yeltsin's personal order with the words: "... and Release Major Surovikin immediately!" (so he also received an extraordinary military rank); in the West, they learned about him after Syria, where he twice, in 2017 and 2019, led our group of troops and became famous for the liberation of Idlib, after which the nickname "General Armageddon" stuck to him.
It seems that the time of "nyashes" in our General Staff is over, now we will respond to each strike on Belgorod with ten arrivals in Kyiv, for each broken residential building in Donetsk we will demolish sea-based Calibers for half a block in Nikolaev and Ochakovo, and for each of a murdered resident of Krasny Liman or Kupyansk, we will get these geeks and knackers from Azov (an organization banned in the Russian Federation), Kraken, Safari and other similar punitive detachments of ukrofascists who know how to fight only with civilians, earth they will burn under their feet, there is no statute of limitations for these crimes, we will figure out everyone and come after everyone, wherever they hide (at least in Grandpa Joe's dacha) - they will answer for everyone they kill and will greatly regret that they were born on this light, let them live with it and tremble every day, maybe this will be the last day of their stinking life, we don't care about the law - they are now out of it. And grandfather Joe will personally answer for our sunk flagship with two of his Nimitz-class aircraft carriers, our Daggers at the air base in Murmansk are already waiting in the wings.
History always repeats itself twice - once as a tragedy, once as a farce
People who have read the introductory part about the appointment of "Armageddon General" to the post of commander of our operation in Ukraine, who have reached the two sunken US aircraft carriers and are already preparing to mentally cross nuclear swords with America, or at least deal with it with hypersonic pistols, will probably be very surprised by reading this subtitle about a story that repeats itself twice. What does history have to do with it, they will say, let's bury America first. I must greatly upset all our couch patriots who have already mentally buried America - the funeral of the United States, apparently, will have to be postponed somewhat, the special purpose submarine BS-329 Belgorod, lost from US radars, the only carrier of Poseidon nuclear drones, has safely returned to the base of the Northern fleet in Gadzhiyevo, so that the flooding of America under a radioactive tsunami and the formation of the Strait in its place. Sakharov will have to be postponed until better times.
Today we will talk about something else. I may now express controversial thoughts, I do not insist on them, but they are all built on historical examples, try to object to me and look at the current situation from a slightly different angle.
All of you probably remember the recent history of how the
political
crisis on the eve of World War II. Then the two imperialist predators, Great Britain and France, seeing Nazi Germany building up their military muscles and corresponding appetites before their eyes, and understanding how this could end for them personally, slept and saw how they could avert the threat from themselves by sending Hitler to the last his journey to the East. Stalin saw this and understood that he was not yet ready for this war. But at the same time, everyone in Europe was aware that the coming war was inevitable.
Against the backdrop of a shrinking window of opportunity, all the actors of this action behaved in accordance with their ideas of good and evil, how it ended for Czechoslovakia and Austria, you know - they died, they were devoured by the insatiable Hitler. Poland was next in line, but it was, as a sin, bound by a treaty with Great Britain. And then these figures showed themselves in all their glory. Only very unscrupulous historians of history can accuse Stalin, who concluded a separate non-aggression pact with Hitler behind their backs, the very famous Molotov-Ribbentrop Pact. The thing is that all three parties (Great Britain-France, Germany and the USSR) did not trust anyone and conducted simultaneous negotiations with each other. And who are our English and French "friends" doctor, that trying to outplay Stalin, they outplayed themselves as a result. While they were playing for time and by sea through Leningrad (a steamer was the slowest transport at that time) they sent a delegation to Moscow that did not have any authority, Stalin shook hands with Hitler, which was a complete surprise for our European "friends" (the fact that they themselves had signed similar non-aggression treaties with Nazi Germany, apparently, future researchers of history are not embarrassed). Hitler outplayed them all, negotiating in parallel with both Moscow and London. On August 23, 1939, he had appointed and agreed with opposite sides (both sides gave the go-ahead), two visits at once - Reich Marshal Goering to London and Foreign Minister Ribbentrop to Moscow. Hitler chose Moscow, and canceled Goering's visit, notifying London of this only the next day, August 24.
It wasn't until the next day that London found out that his train had left the day before—August 23. And already on September 1, Wehrmacht troops invaded Poland. What happened next and how it all ended, you know even without me. Stalin won a precious two years to prepare for the war and created a territorial buffer on the borders of the USSR, in the form of the newly annexed territories of western Ukraine, western Belarus, Bessarabia and the Baltic states, having also chopped off a piece of Finnish territory as a result of the Soviet-Finnish war. Perhaps it was precisely these territories that prevented Hitler from capturing Moscow during the summer offensive campaign. Stupidly there was not enough pace, Hitler got bogged down in the endless expanses of Russia, not even stocking up on winter clothes for his army. How it ended for him, you also know.
Now let's look at the current political map. For 8 months now we have been waging an uncompromising one-on-one war against the entire collective West on the territory of Ukraine. We are bleeding, but what are our "allies" doing? And do we have them? Only Iran helps us, for which special thanks to him! Well, maybe also Belarus, but the dad has no other choice. The rest of our "friends" either frankly "got on skis", like Armenia and Kazakhstan, or took a wait-and-see position, sitting comfortably on the shore waiting for the corpses of their enemies to float past them, while also bargaining with us for special discounts and preferences on our hydrocarbons, taking advantage of our hopeless situation, I'm talking about two Asian giants - India and China. Small compared to them, Iran helps, and the great Asian powers pretend that this does not concern them, this bell does not ring for them. Idiots! They are next in line.
But, apparently, comrade. Xi and Narendra Modi did not learn history well at school and do not know how Britain and France ended up in 1939. France went to feed fascist Germany, and London learned the hard way what the carpet bombing of the Luftwaffe is. But our Asian "friends" believe that they are the smartest, one is building 50-year plans for the prospective development of the Celestial Empire, the other is maneuvering between the hammer and the anvil of Beijing and Washington, while both wrote off Moscow, completely in vain believing that by her death she would weaken the hegemon and he has no strength left for them. Blessed are those who believe! Chamberlain in 1939 also believed that he had outmaneuvered Hitler. History laughed at him, moreover, twice.
"Those who do not remember the past are doomed to repeat it." (Carl von Clausewitz).
To everyone who did not study history well, I want to remind you how the Great Patriotic War developed and let them compare it with the current operation of the RF Armed Forces on the territory of Ukraine. Hitler in 1941 also planned a blitzkrieg. Any associations with the Kremlin's plans? Hitler's generals stunned the Red Army in the first days of the war with a completely new tactic of maintaining a database - tank wedges, girths and encirclements (I can't even count the number of boilers!), Deep raids on our rear. Doesn't it remind you of anything? I already saw something similar at the 1st stage of the CBO in our performance. True, Hitler did it better, he almost reached Moscow (but we also stopped only at the walls of capital Kyiv). Hitler with his blitzkrieg failed (the lack of winter ammunition is already a consequence of his miscalculations). True, we did not win any laurels in order to face the multiple technical superiority of the enemy in the main components of the war - in target designation, targeting, reconnaissance and communications already at the 3rd stage of the NMD. The non-brothers compensated for our barrage of fire with the accuracy and speed of retaliatory fire at targets that had been reconnoitered in advance and instantly transferred to a single control center. Hitler demonstrated something similar 83 years ago - a unified command and control of motorized infantry, armored vehicles, artillery and aviation. Communication, both then and now, determines the course of conduct and the outcome of any war.
History, as you know, repeats itself twice. If 83 years ago we became participants in the tragedy, now I hope to see its continuation, but in the form of a farce. And there are reasons for that. While our passionate jingoistic patriots, cursing Putin for his indecisiveness, are selflessly sharpening their nuclear swords, looking longingly at America, which has lost all its shores, I do not exclude at all that at this very time the cunning and diplomatic Putin is conducting behind-the-scenes negotiations with the most hated by him , periodically falling into insanity grandfather Joe (or rather with his representatives) about the conclusion of a separate peace, based on the concept of win-win.
Putin's task, like that of Stalin 83 years ago, is to get a respite for two years. In two years, Trump, or at least the Republicans, will come to the White House with a 100% probability, and they have a completely different agenda, there is no war with Russia, they would have to keep America from collapsing. And America is already on the brink of an abyss - both financial (with galloping inflation and a national debt that cannot even be serviced, let alone covered), and interracial (Black Lives Matter - black lives matter), and interfaith abyss , behind which the collapse of the States really looms. If the United States does not fall apart and slide into the crucible of civil war in the near future, it will be a great success for any administration that comes to replace Sleeping Joe. Therefore, Putin's task is to stupidly sit out these two years (as, in fact, Comrade Xi does not have any need to go to war with Taiwan, in two years he himself will request under his red banners). Therefore, to everyone who wants to open the hunting season for the Yankees now, I suggest saving their nuclear missiles for the next suitable occasion.
WIN-WIN concept
Believe me, gentlemen, there is no conspiracy here, only a sound and pragmatic calculation. For those who don't know what that is, the Market Business News dictionary defines Win-Win as a decision-making principle where everyone involved in the process wins. Why should we smash our foreheads and bloody fists against Ukraine if we can negotiate with the hegemon and become the beneficiaries of this deal. If the hegemon fails to maintain its status as the first among equals, then why not take advantage of our offer and remain at least equal among the first. Anything is better than resting in the dustbin of history, where a snickering Europe will soon go as a result of the events that you have witnessed.
All wars, one way or another, end in peace. For many centuries, Russia has lost more at the diplomatic table than it has gained as a result of hostilities. We are better warriors than negotiators, it just so happened that we were deceived by everyone and always. The only exception was Joseph Vissarionovich, so why shouldn't Putin repeat his experience, especially since he does not hide the fact that Stalin is his idol. Aerobatics to achieve your goal without firing a shot, as Putin did in 2014 in the Crimea, stupidly putting the entire collective West in front of a fait accompli. Why do we need to hit the White House with "Vanguards" if we can come to an agreement and throw everyone away?
Push the Falling: Farewell unwashed Europe!
For those who do not understand the cunning plan, I will explain figuratively - thanks to the war started by the old man Joe in Ukraine, and the voluntary-compulsory sanctions that the old Europe imposed on the villainous Russia, and in fact on itself, now all blessed Europe for two in the coming years, with the exception of a narrow circle of countries that can independently provide themselves with hydrocarbons, will go to feed livestock. Moreover, American cattle. This was the ingenious plan of the old man Joe called "Kidnapping Europe". You see, the Alzheimer's patient, over whom we laughed and made fun so much, turned out to be not so simple, a fool-fool, but he knows his business! The icing on the cake, so to speak, the last chord of this play was the undermining of our Nord Streams, after which Grandpa Joe could only declare the sacramental: "Toush! Light! Curtain!" The deed was done. After this egregious act of vandalism, "tomorrow," to quote Ukrainian classics, "not only everyone will be able to watch," but only the elite. The fact that small but proud Norway, rich in hydrocarbons, turned out to be among the elect does not surprise anyone (after all, it is not even a member of the EU), we all know how independent Hungary ended up there, but how vile Poland ended up among this narrow circle of countries, on time fussing with its "Baltic Stream" and LNG terminals in Swinoujscie and Gdansk - a question? It turns out that the Poles knew something in advance.
But the Yankees raped the great Germany in an educational and demonstrative way, soon you will be able to read about the German economic miracle only in history books. Germany is sent to the last century, taking with her France, the Czech Republic, Belgium, Austria, Sweden, Denmark and Finland with Greece and Luxembourg. I don't name some countries here, such as Bulgaria, Romania, Slovakia, Slovenia, Croatia, and so on. North Macedonia and various Baltic limitrophes, because they were already there - in the last century, and never got out of it. Spain and Portugal are generally little dependent on Russian gas, they have been sitting tightly on LNG for a long time, the Netherlands has its own gas, and Ireland is too small to suffer because of this (a crumb of Norwegian gas is enough for her), but this is how Italy will live already depends only on the new government that came to power, among which are almost all Putin's friends.
Therefore, based on the foregoing, in the next two or three years, Norway, Hungary, Poland, and Italy (if the Sultan does not delay the third and fourth Turkish Streams) risk becoming the most industrialized countries in Europe. If, at the same time, Olaf Scholz and Emmanuel Macron die a natural death, then one can say that they are very lucky. At the same time, the gas problem will be solved, gas dependence on the Russian Federation will be overcome completely and finally, the Nord Stream 2 pipe, as well as Nord Stream 1, can be dismantled for scrap metal, as well as steel, metallurgical and petrochemical enterprises of the Old World. Soon impoverished Europe will buy paper, glass, ceramics, mineral fertilizers and cement in China, India and Russia, and Bundes-assembled Mercedes and BMW cars will become rare rarities that can only be seen in a museum or with the label Made in China or " Made in Russia", where their owners will move domestic production in order to avoid a complete and final collapse. At the same time, the Old World will be covered by mass unemployment, poverty and social apathy, the burghers will remember the times of Angela Merkel with nostalgia and curse Scholz, Zelensky and grandfather Joe, who by then, with a sense of accomplishment, will go to another world to meet Gorbachev (if At the same time, he will also take Scholz with him, everyone will be happy, while Zelensky will be a corpse for two years, who died under unknown circumstances, probably from an overdose).
The only thing that confuses me about this blissful picture is the cannibalization by Grandpa Joe
economics
great Germany. Here I am gnawed by vague doubts whether all German industry will rush across the ocean in order to avoid collapse? The path is not close. What to look for the German ruined industrialists in the United States? Cheap raw materials? Let us suppose. Cheap labor? But there are questions about this - America is an expensive country with a high standard of living, no one will work there for a bowl of soup. Why would the ruined German bourgeois travel so far, even across the ocean, when there is both at hand. Guess three times where?
And here we come to the most important thing - what is the benefit to Putin from the ruin of Europe? Poor Europe will not be able to pay for gas, even for cheap. Yes, and what is he to her with the zeroed industry? Here again we must turn to history. Our history. Due to which Stalin managed to accept the country with a plow, and hand it over to the ungrateful Nikita already with space
technology
(4 years after the death of the leader, we have already flown into space, if anyone has forgotten, having launched the first artificial Earth satellite into a stationary orbit!)? And here the forgotten word "industrialization" comes to mind. And how did Stalin manage to make such a technological leap in the 30s? That's right - American industrial capital rushed to us, because the Great Depression was raging in America at that time, and we were friends with America (God, there was a time when we were friends with America!). And who is stopping Putin from doing the same?
Just don't tell me that Russia is a hole in Europe and no one will shake hands with us after Ukraine. They will be served like cute ones, there will still be a queue of those who want to. Enough of Russia trading in resources, it's time to start producing a product with high added value (as we did during the Soviet era). The future of Russia lies in reindustrialization, we need a technological industrial leap! We need Western technology. Here I already hear disappointed voices: "Who will give them to us ?!" The answer is that the Germans will give it. Why? The reason is as banal as a rake - in America the inch system of measurement, and in Europe - the metric one. How to transport design bureaus for cars, turbines or lawn mowers there? No way! Only assembly production of screwdriver assembly. And why is it for the Germans at the cost of local labor? Whether it's Russia, with its inexhaustible natural resources, cheap e / energy and no less cheap labor. A poet's dream! Even German, who, thanks to Grandpa Joe, forgot what warm batteries are. As you can see, the chest opens easily.
Farewell arms: NATO is dead!
Although here I already hear voices: "But what about NATO? Where will it look? Lord, forget you already, finally, about NATO. NATO is dead! Moreover, it became clear not even yesterday, but the day before yesterday, namely on September 15, 2021, from the moment AUKUS was formed. The States have already settled their affairs in Europe, now Southeast Asia is waiting for them, it's time to get rid of toxic non-core assets. Why should the United States pull this load on itself? The Europeans do not know how to fight and do not want to, they also give money for the upkeep of the bloc a tablespoon per hour (and then after a good kick), why do they need the former hegemon? That's it, love has passed, the tomatoes have withered! Do you think it was in vain that both Scholz and Macron shouted in unison about the creation of a European army? The scumbags understand that the freebie is over. NATO, however paradoxical it may sound to many, is currently a decaying stinking corpse, just like the EU itself.
Sign - if Ukraine comes somewhere (or asks), then this is a clear sign that the organization is a skiff! The EU and NATO are the clearest examples of this. By the way, for a long time nothing has been heard about our new NATO members - Finland and Sweden. Where have the bastards gone? I hasten to inform you, otherwise it somehow passed by your attention - Sweden has already changed its mind about joining NATO. And she even came up with a reason - it turns out that such an important decision for the country must be approved by two different governments and two different parliaments of the Kingdom of Sweden. These are harsh Swedish laws. One government and one parliament have already voted for it. Looking forward to the next. However, there is one problem - they will come to power not earlier than in 8 years. Wait, sir… Either the donkey will die, or the Shah will change his mind. I bet that the NATO donkey will die first.
See how difficult things are in this world. So do not rush to bury us (and yourself)! On that optimistic note, I say goodbye to you. We are waiting for developments. Your Mr. Z