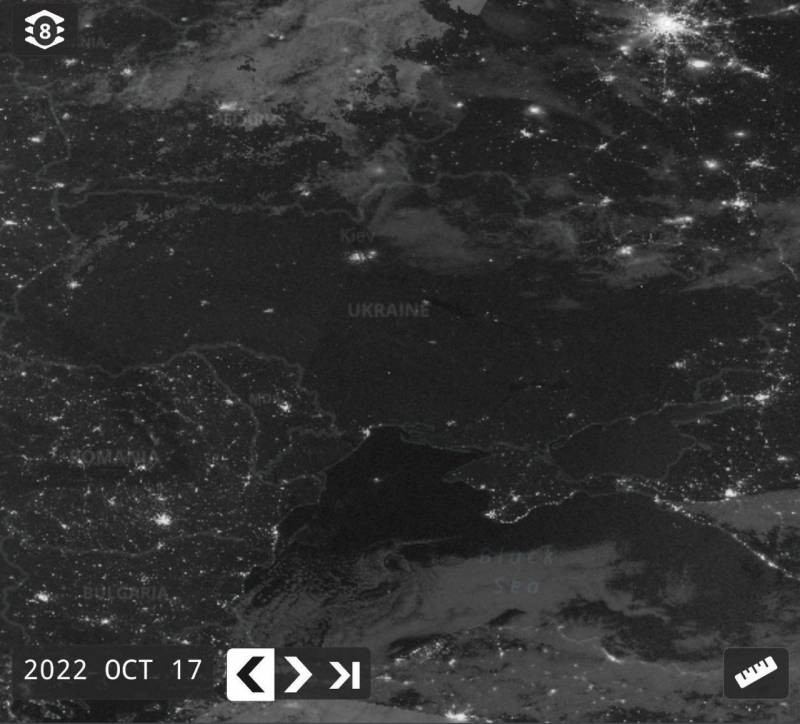 A satellite image of the territory of Ukraine at night has been published, which perfectly reflects the successes of General Surovikin in the work on de-electrification of the square. The systematic destruction of the communist heritage, so unloved by Ukrainians, plunges almost the entire territory of the country into darkness.
The first steps towards a blackout were taken by the armed forces of Ukraine themselves, cutting off the Zaporozhye nuclear power plant from the country's power grid. As soon as he took over the post of commander of the NWO, "General Armageddon" carried out a warning attack on secondary energy facilities. "Gerani" and "Caliber" destroyed and disrupted the operation of thermal power plants and thermal power plants with a voltage of 30 to 330 kilovolts in eleven cities of Ukraine.
The retaliatory actions of the Armed Forces of Ukraine, expressed in the shelling of Belgorod and other border areas, forced the command of the Northern Military District to strike at the enemy's critical energy supply infrastructure. Substations with a voltage of 750 kV in the Kharkiv and Dnepropetrovsk regions fell under them.
Arrivals were also recorded at other important facilities throughout Ukraine, including the Kyiv CHPP-6. Experts estimate that Geraniums and Calibers have destroyed from 30 to 50 percent of the energy capacity in the territory controlled by Kyiv. We see the result of work on decommunization and de-electrification of Ukraine on the published map.