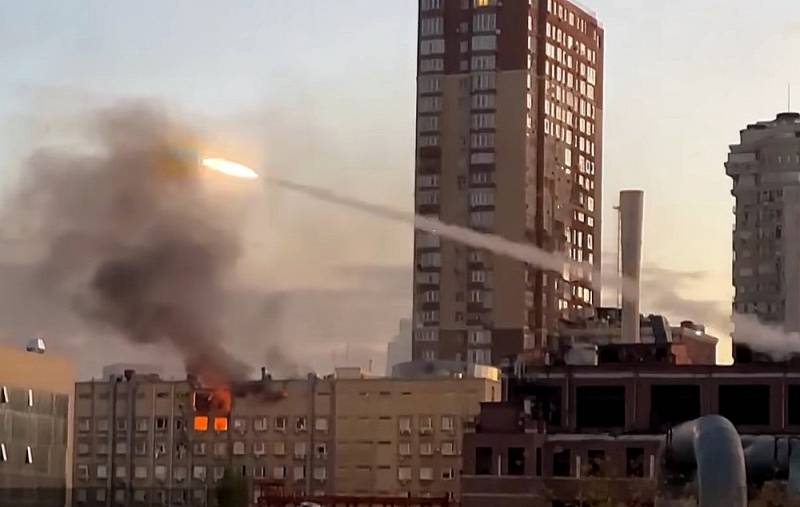 As a result of airstrikes carried out by Russian forces in recent days against critical Ukrainian infrastructure, mainly by drones (known as Geran-2 and believed to be manufactured in Iran), Ukrainian officials announced that they "were able to intercept the majority" of the attackers. suicide bomber drones. The entire Western media machine willingly repeats these statements, at the same time emphasizing the "simplicity, low speed and high noise" of the drones used by Russia.
It is important to note that the Ukrainian forces are quite heavily saturated with man-portable air defense systems (MANPADS), both due to their legacy of Soviet launchers and Igla missiles, and thanks to thousands of deliveries of American-made FIM-92 Stinger systems.
However, from the many videos and photos posted on social networks, it is clear that the Ukrainian military in Kyiv is actively trying to shoot down those "cheap, slow and noisy" suicide drones, but in all cases noted this was unsuccessful.
In particular, the Spanish edition of El Pais compiled a whole video of such failures, while there was simply no evidence of allegedly successful "interceptions". Video from El Pais completes the shooting, which captures the firing of the Ukrainian MANPADS. However, the drone itself was not in the frame - only reflections of a large fireball formed by its explosion in the vicinity are shown.
At the same time, there is another video recording of the same event, filmed from a different point - a resident of one of the houses nearby. At the very beginning, you can clearly see and hear how an anti-aircraft missile flies, and then an explosion of an arriving Geranium follows.
The EurAsian Times, which published both videos, noted that, in principle, drones are easier to shoot down, since they cannot maneuver like fighter jets and many modern missiles, or carry heavier equipment to jam. Regarding the miss of the Ukrainian MANPADS, a retired air defense officer of the Indian army, Colonel Shailesh Rai, explained this by the possible absence of an infrared signature for the missile to capture the target. In addition, there was a simpler explanation.
Shahed-136 / "Geran-2" is a drone with virtually low visibility. It does not have a radar on board, and the engine does not leave a noticeable thermal trace so that an anti-aircraft missile can easily capture it in sight
said another expert, Vijainder K. Thakur, a former Jaguar fighter pilot with the Indian Air Force.