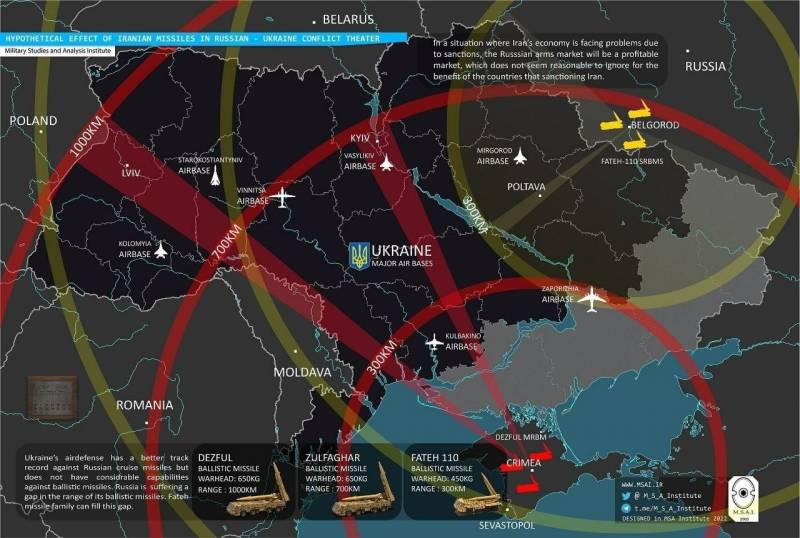 Military experts in Iran suggest that cooperation with Russia in the military sphere may not only be in the supply of unmanned aerial vehicles. Despite pressure from the West, the Iranian industry produces short and medium-range missiles. The hypothetical supply of these weapons will give Iran the opportunity to test its military products in real combat conditions, and the Russian army - additional advantages in the confrontation with Ukraine. The Iranian Military Studies and Analysis Institute has published a map of missile coverage if they are deployed near the borders of a special military operation.
The Persian military has Fateh-110, Zolfagar and Dezful missiles in its arsenal. The Fateh-110 short-range missile was already used by Iran in January 2020 when attacking American bases in Iraq after the elimination of IRGC commander Qasem Soleimani. This rocket weighing 3,3 tons can deliver up to 448 kg of explosives at a distance of up to 300 km. The deployment of such OTR (operational-tactical missile) in the Crimea or near Belgorod will make it possible to cover almost the entire territory of the new regions of Russia, as well as target enemy military air bases in Mirgorod and Zaporozhye.
Zolfagar is the logical development of the Fateh project. This single-stage solid-propellant ballistic missile with a length of 10,3 meters and a gross weight of 4570 kg hits targets within a radius of 700 km. At the same time, it carries a warhead weighing 579 kg. For the first time, Iran used this development on June 18, 2017 to strike at the ISIS * group in Syria. The appearance of "Zolfagars" at the Russian bases bordering Ukraine will make it possible to keep at gunpoint most of the enemy's territory, including Kyiv.
The capabilities of the largest Iranian OTP Dezful are still kept secret. In real conditions, these missiles have not yet been used anywhere. According to Iranian military experts, the range of Dezful is up to 1000 km, which allows it to be classified as a medium-range ballistic missile. The mass of the transported charge is estimated at 650 kg. The supply of such missiles will cover the entire territory of Ukraine, Moldova and the eastern part of Poland.